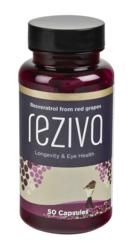 'I decided to develop Reziva using resveratrol after a recent study demonstrated that the compound supports eye health,' said Dr. Krawitz.
Long Island, NY (PRWEB) May 02, 2011
Vitamin Science Inc. announced today the release of their new 50-count bottle of Reziva capsules developed by leading ophthalmologist, Dr. Paul Krawitz. One Reziva capsule per day promotes longevity, weight and glucose control, cardiac health and supports good eyesight and macular function. The name fittingly comes from Ziva, the Slavic Goddess of Longevity. Reziva is made using resveratrol, from the concentrated extract of red wine grapes from the valleys of Southern France. This sets it apart from other resveratrol supplements that are made using Polygonum Cuspidatum (the common Japanese Knotweed). Reziva contains concentrated trans-resveratrol, oligomeric proanthocyanidins, anthocyanins and wine polyphenols - just like real red wine, an attribute of its superior quality.
"There are numerous studies showing the links between red wine and health. I decided to develop Reziva using resveratrol after a recent study demonstrated that the compound supports eye health," said Dr. Krawitz. "I am excited to be releasing this product that I consider to be far more beneficial to my customers than existing resveratrol products on the market."
Resveratrol's numerous health benefits are backed up by clinical research. It is a potent antioxidant, which is not only beneficial to heart health, but to eye health as well. In a 2010 study published in the American Journal of Pathology, resveratrol was able to stop out-of-control blood vessel growth in the eye. The resveratrol caused these unintended and fragile new blood vessels in the eye to disappear. This new blood vessel growth is the very cause of several conditions that can cause leakage of fluid in the retina, so this discovery means that resveratrol has the potential to preserve vision in aging eyes, and protect from vision loss.
In addition to its benefits for eye health, resveratrol's benefits backed up by published studies offer heart health, weight and glucose control, healthy immune response, and breast and prostate health. It supports healthy cell replication throughout the body, and can also act as an anti-inflammatory, making it beneficial where chronic inflammation is the root cause.
Reziva is essentially red wine, and gives you all the benefits of wine, but without the alcohol. In fact, only one Reziva capsule per day gives you as much resveratrol as 30 glasses of wine. And it contains no sugar, artificial sweeteners, flavors, colors or preservatives. The ingredients are all carefully tested for both potency and purity, to ensure that all necessary nutrients are provided.
About Dr. Paul Krawitz:
Dr. Krawitz is Board Certified Ophthalmic Surgeon and Partner of Huntington Eye Care Associates located in Huntington, NY, and is one of Long Island's most highly sought and professionally recognized eye surgeons. His specialties include Technologically Advanced Cataract Surgery, Multifocal and Accommodative intraocular lens implants, Glaucoma Therapy, Macular Degeneration, Diabetic Retinopathy, Uveitis and Eye Trauma. Dr. Krawitz performs nearly 1000 ophthalmic procedures annually, including no-stitch cataract surgery, the most modern therapies for glaucoma and laser treatment of both macular degeneration and diabetic retinopathy.
About Vitamin Science:
Vitamin Science Inc., and the web site http://www.visivite.com, was founded in 2001 by Board Certified Ophthalmic Surgeon, Dr. Paul Krawitz. Vitamin Science Inc. specializes in the manufacture of nutritional formulas for ocular health which are based upon the most recent scientific literature. Currently the company has eight formulas for the treatment of macular degeneration as well as an oral supplement for reducing the symptoms of dry eyes. Formulas from VisiVite.com are created using a laboratory that is certified in Good Manufacturing Practice and uses the highest quality natural ingredients from exclusively USA suppliers. Formulas for Vitamin Science Inc are consulted upon by a team of ophthalmologic physicians and biochemists, based upon the most valid and reputable scientific data.
# # #