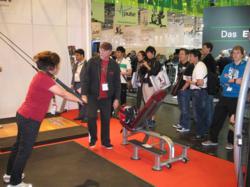 My EURO MMA friends at FIBO where blown away by the rotation of the War Machine…they did'n't see it coming…it's the best core training equipment on the planet" Freddie George the "Detroit Diesel" - Tapout Magazine writer and Mixed Martial arts fighter
Duarte, CA (PRWEB) May 03, 2011
The War Machine® and CrossCore180® were a smashing success with their new Rotational Bodyweight Trainers at FIBO in Essen, Germany, the biggest exercise and fitness show on the planet and drew record crowds estimated at 58,100 visitors (Previous year: 53,200) and 580 exhibitors. CrossCore launched its new CrossCore180® at the TuffStuff Fitness Equipment booth alongside the original "War Machine® Trainer" which is quickly becoming a tool of choice for trainers and athletes worldwide. TuffStuff Fitness Equipment also announced that it will be manufacturing a series of great new training racks and training stations, designed by CrossCore for single use and group training.
"I have been to a lot of trade shows and this show has amazing energy, fun and a great vibe for the health and fitness industry. People are really open to new ideas and we have dozens of newly interested international distribution partners. We sold out of all our units in the first day and international trainers are anticipating orders to arrive from the States. With our participation in both the IHRSA and FIBO shows, the response has been quite overwhelming and we feel that we have reached a great jump off point. Rotational Bodyweight Training is gaining steam!" Jay Wilson Vice President, Global Marketing, CrossCore, Inc.
"My EURO MMA friends at FIBO were blown away by the rotation of both the War Machine and CrossCore180…they didn't see it coming…these are the best core training tools on the planet"
Said Freddie "The Detroit Diesel" George - Tapout Magazine writer and Mixed Martial arts fighter and trainer.
Visitors to the CrossCore display came from all areas of the fitness industry. "I had the pleasure of meeting a great Pilates instructor who after using the War Machine many times is now a convert to Rotational Bodyweight Training. Along with doctors, weight lifters, MMA fighters and boxers who purchased the War Machine's at the booth, we are seeing the diversity of people that CrossCore is starting to have an impact on." Brendan Cosso, President, CrossCore, Inc.
CrossCore, Inc. is a manufacturer of advanced "Rotational Bodyweight Training" products and accessories. Its one-of-a kind Patent Pending pulley systems adds rotational movements to continuously engage the core and the entire body to create highly effective training. Both of CrossCore's premier products, the War Machine® and CrossCore180®, highlight the importance of educational fitness training from the high school level to clubs and professional sports teams. Additionally, CrossCore products offer high versatility with the easy addition of accessories including kettlebells, gymnastics rings, straps, and sandbags. CrossCore allows all levels and ages of users- fitness enthusiasts, sports performance athletes, military personnel, mixed martial artists. CrossCore's rotate to engage products are distributed in the U.S. and Internationally.
If you'd like more information about the War Machine® by CrossCore, Inc. go to
http://www.crosscore-usa.com or contact Jay Wilson at jay(at)crosscore-usa(dot)com
###