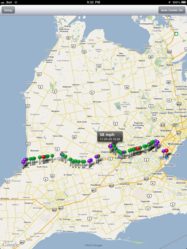 Route Master users can help drivers avoid accidents and traffic jams by sharing real-time traffic speed data.
(PRWEB) May 03, 2011
Oakville, Ontario, Canada, mobile application developer Precision Apps announced the release of Route Master for iPhone and iPad.
Route Master on the iPhone or iPad 3G allows others to see where a Route Master user is as well as how they got there and how fast they've been travelling.
Route Master sends location and speed data to a central server for sharing with others. Want to share traffic conditions with co-workers? Route Master makes this simple to do. Colored PINS are displayed to indicate trouble spots or smooth flowing traffic conditions.
Route Master users can save money on cell phone calls from wives looking for an ETA on arriving home. By emailing the unique Route ID a spouse can see how a user's drive is progressing using the free Route Master web site.
Going to the cottage for the weekend? Route Master makes it possible for friends to follow Route Master users turn by turn. Have trouble with teenagers borrowing the car? Route Master lets users track where they are travelling and how fast they're driving.
Other Key Features:

iPhone and iPad versions
Auto Centering
Switch between MPH and KPH
Adjustable data refresh intervals
Ability to view route data, another user`s route data or all recent route data
A BlackBerry version of Route Master is planned for release this summer.
More details about Precison Apps can be found on the company web site: http://www.precisionapps.ca
Product Web Page: http://www.precisionapps.ca/prod-03.html
App Store Link: http://itunes.apple.com/us/app/route-master-hd/id432760147?mt=8
Company Info: Precision Apps is a software development company specializing in mobile applications for consumers. For more details visit the company web site: http://www.precisionapps.ca
###