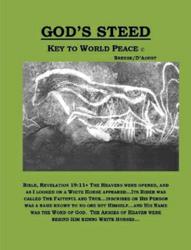 The Angelic Horse is the Symbol of Peace, Eternal Life and is Our Conductor to Heaven.
(PRWEB) May 03, 2011
34,000 years ago, cave art of a horse with wing(s) was etched into the wall of the 'Hillaire Chamber' in France's government run 'Chauvet' Cave System. This earliest known graphic of a Cherub pushes back the 'Dawn of Religion'. Artistic stylized grooves of the head and wing look dramatic in this white limestone carving, which also depicts insemination of a cloud and the earth. This 'new' oldest religious symbol graces the cover of just released, "God's Steed- Key to World Peace" © Breese/D'Aoust 2011 http://www.lulu.com $84.95 (8.5"x 11"); $5.99 E-book.
The Angelic Horse is known through Scripture and Traditional Stories as 'The Living Being in The Wheel'. This Chauvet Cave 'set in stone' Spirit appears without It's Wheel (Chariot; Drum; Throne; Key) thus becoming our first religious art and first religious symbol. The Winged Horse predates It's Wheel and all subsequent religious symbols- including the 'Solar Cross'; 'Circumpunct'; 'Tree of Life'; early Hindu 'Swastika' and numerous Crosses. Sir Knight Daryl Breese names this first Peace Icon "Rhose".
The co-authors are attempting to complete the late Canadian Statesman Louis Joseph Papineau's (D. 1871) 'Quest for Peace'. Papineau's final speech in 1867 outlined peace being possible by promoting the melding of world religions- recognizing the spirit of Divine Providence; shared Eternal Truth; and fraternity. This mythical story 'took flight' in 2008 when the team literally stood on L.J.'s Crypt- at Manoir Papineau, a Canadian Historical Site overlooking the Ottawa River. The nearby Village of Papineauville, Quebec is known as a spiritual center of peace. The welcoming signs showcase the Winged Horse stating "Return to the Source" reminding us this peaceful "like a Dove" Spirit lives in our hearts. Papineauville's Crest of the Cherub has a quote from Papineau, "Sum Ego Est (I am His Witness)". "God's Steed- Key to World Peace" documents 146 Ascensions to Heaven from witnesses and Riders of the Spiritual Horse- including: Elijah; Jesus; Mohammed; Buddha; Kalki; Papineau; D'Aoust; Breese, and even the editor's surprise 2009 visit.
The Angelic Horse is known as a Symbol of Peace. "God's Steed- Key to World Peace" is a tangible anthology of the Spiritual Workhorse from the story of Creation to future 'Judgment Day'. Numerous Scripture passages and living testimony palpably document the existence of the Angelic Winged Horse. This Living Being is shown as the Creator's Spiritual 'Conductor' between Heaven and Earth. 'God's Steed' adds 'light' to mysteries of the Holy Spirit; Heaven; Body/Soul/Spirit; and the Tree of Life- many answers to age old questions.
"God's Steed- Key to World Peace" confers a profound 'Universal Consensus' that the Heavenly Horse lives and is the Keystone for peace- appropriate for the first known religious symbol. What a time for this fine Beast to debut… Will the authors' goal of increased awareness and tolerance lead to peace? They proposed a simple accord on page one. A renowned sculpture team, led by Bernie Jestrabek-Hart, is working to commemorate this 'coming out' event.
"God's Steed- Key to World Peace" has 85,000 exegetic words and even a Rembrandt that complement the plethora of incredible Cherubim graphics. This unique and controversial non-fiction glorifying 'Horsefeathers' might soar. Age of Aquarius dawning? Will the White Dove sing?
Sir Knight Daryl Breese Knights of Columbus Scribe
keytoworldpeace(at)hotmail(dot)com (661)703-4444
###