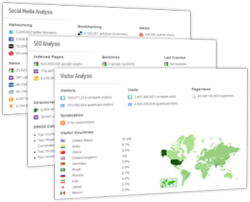 SiteTrail lets you see a quick snapshot of any competitor website at no cost.
Boston, MA (PRWEB) May 03, 2011
SiteTrail, Inc., a new web based startup that connects users to the latest information and analytics about their favorite websites introduces an enhanced version of their popular website analysis tool.
There are tons of website analytics services around the internet today. All of them face one common issue, they provide biased stats based on data collected from self-branded tools such as web browser based toolbars. This makes it harder for webmasters to comprehend these website statistics beyond simply observing trends. SiteTrail tackles this problem by taking an entirely different approach to reporting site analytics.
SiteTrail scours the web in an attempt to find as much information as it possibly can about any given website or domain name. Then it compiles easy to understand reports that are accurate down to the number.
Popular features of the SiteTrail analysis tool include:

Social Media Analysis: From Twitter followers to Delicious bookmarks, find out how popular a site is in the social media space.
SEO Analysis: Learn how well a site is optimized for popular search engines such as Google, Yahoo and Bing.
Visitor Analysis: Get an estimate of how many people visit a site from popular web analytics services such as Compete and Quantcast.
Traffic Analysis: Learn about a site's traffic patterns and how well it ranks on services like Alexa and Compete.
Revenue Analysis: Determine how much advertisement revenue a site can make at the current economic conditions.
Content Analysis: Analyze the top keywords a site is using and determine other factors such as it's average page size.
Link Analysis: Find out who a site is linking to and how much "link juice" it passes to them.
Hosting Analysis: Find out a site's IP address and server location as well as which web hosting company is hosting it.
Domain Analysis (WHOIS): Monitor a site's domain name, find out who it's registered to, when it expires and more.
Server Analysis: Learn what software a site was built with, how fast it's web pages load and the programming languages it uses.
Color Analysis: Get a quick snapshot of the top colors used on a site including respective hex codes and color densities.
Additional features include DNS record analysis, HTTP header analysis and much more. SiteTrail is a "great way to see a quick snapshot of a competitor website," says Jason Chan, a SiteTrail user.
About SiteTrail, Inc:
Founded in 2010, SiteTrail is the top website analysis platform and the most comprehensive source for breaking social media and technology news on the web. SiteTrail helps web enthusiasts keep track of their favorite websites. Reaching over 1 million unique visitors and serving more than 1.5 million pageviews per month, SiteTrail is a leading online media property. For more information about the company or to access the SiteTrail website analysis platform, visit SiteTrail.com.
Press Contact:
Kelly Norris
SiteTrail, Inc.
P: 707-901-7483
press(at)sitetrail(dot)com
sitetrail.com
###