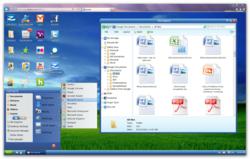 The ZeroPC accounts manager feature utilizes a single sign-in to automatically access Facebook, Flickr and Twitter, and Web storage providers including Google Docs, Box.net, SugarSync and other popular tools!
San Francisco, CA (PRWEB) May 02, 2011
ZeroDesktop™, Inc., provider of next-generation Web Desktop solutions, today announced that it has launched Facebook and Twitter pages for its new ZeroPC™ transferable desktop cloud content management product. Utilizing these popular social networking sites to educate and engage, visitors can learn about how they can easily and securely move and unify their desktop content online, access and manage their content with any browser wherever they go and from any device, and share it instantly with friends, family and colleagues using a secure link.
Consumers, education and business users can join the ZeroPC Community today by becoming a fan on Facebook at http://www.facebook.com/pages/ZeroPC/123497937724818 and following @ZeroPC on Twitter at http://twitter.com/#!/zerodesktop.
ZeroPC (http://www.zeropc.com) turns the user's browser into a PC. With any browser and an Internet connection, users can open their personal ZeroPC desktop and are always connected to all of their documents, photos, videos, email and social content from a single site. ZeroPC provides the most comprehensive and functional virtual desktop in the cloud with its rich combination of supported Web apps, local apps and native apps ranging from productivity tools to collaboration to social networks. ZeroPC users only pay for what they use, and no subscriptions are required.
About ZeroDesktop
Headquartered in San Francisco, CA, ZeroDesktop, Inc. is the provider of a revolutionary cloud-based "transferable desktop" that changes the way that global users share their digital content with friends and colleagues. Using ZeroDesktop's new "ZeroPC" (http://www.zeropc.com) lifetime desktop in the cloud, users can move the full desktop experience online, unify their content into one secure repository for accessing and sharing between people from any browser. ZeroDesktop is headed by CEO Young Song, an entrepreneur whose career focus has been on bringing to market synergistic desktop computing products that deliver life-enhancing value to education, business and consumers. He founded NComputing, a $40 million venture-backed company with patented technology that leverages PC power and cloud computing to create a share computing resource that connects multiple users at a low cost, and is used today by millions of customers in over 100 countries. He also co-founded eMachines, the low-cost computer brand that enabled affordable PC ownership and Internet adoption for consumers (later acquired by Gateway).
ZeroDesktop and ZeroPC are trademarks of ZeroDesktop, Inc. All other trademarks are the property of their respective owners.
Media Contact:
Pattie Adams
408-393-2567
pattie(at)zerodesktop(dot)com
http://www.zeropc.com
###