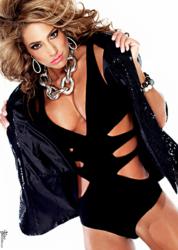 Two very lucky people's lives will be changed forever with much success and instant fame from my LA West Coast Fitness Model Factory Casting Call"-JNL
Miami, FL (PRWEB) May 02, 2011
JNL is in a West Coast state of mind-and with a big heart! Her "JNL Fitness Model Factory Dream Team" and she will be in Los Angeles, Cali to make some very lucky people's dreams come true! Generous in spirit, JNL is hosting a "Fitness Model Factory" casting call open to those who apply first at http://www.FitnessModelFactory.com and send in their photos to JNLFitFactory(at)gmail(dot)com Casting call will take place on May the 16th from 9-12:00 at the Sofitel Hotel located at 8555 Beverly Blvd. Open to both men and women, JNL will be instantly changing two fitness models into "overnight stars" by broadcasting this entire production. The two lucky winners will be chosen at the casting call and then instantly whisked away VIP Red carpet style to a photo shoot at her "brother" studio in LA; some call it her "Fitness Model Factory off the West Coast." The LA based "Fitness Model Factory" is actually the brainchild of super fitness model and great friend of Jennifer Nicole Lee, Mr. Rob Riches. Rob will be hosting the event along with JNL, showcasing his own brilliant spokes model and videography capabilities. The 2 lucky winners will receive:
A Full Fledged photo shoot at the prestigious "Fitness Model Factory" of LA, called 1st Point Media-Worth more than $2k, with the celebrity photographer extraordinaire Gavin Von Karls. Your special once in a life time opportunity will all be videotaped, edited, uploaded and made VIRAL, for instant "fame" and global recognition. Women will receive free JNL by Rogiani gift bags valued at over $500, full of JNL's latest Clothing Active Line, at JNLbyRogiani.com Plus, JNL Goody bags will of $1,000 worth of free books, autographed memorabilia, $200 worth of BSN Supplements, and most importantly-instant admittance into one of the world's most elite fleet of super fitness models, The JNL Fitness Model Factory.
But wait, there's more. And when JNL is in the mix, there is always more. JNL is also holding another Contest for $2K worth of LA Lakers Play off Tickets, some of the best seats in the house at the Staples Center. This contest is only open to those who apply at FitnessModelFactory.com and invest in a $500 Photo Shoot Production at her Miami studios. The lucky winner will get to enjoy a night out on the town going to Conference Finals Home Game #2 with JNL, her Executive Assistant to take care of their every whim, and also a free extra ticket to bring along one of their friends, boyfriend/girlfriend, mom, dad, or whoever they wish.
For more info, email Jennifer Nicole Lee's Fitness Model Factory team at JNLFitFactory(at)gmail(dot)com and watch her Special You Tube Message here: http://www.youtube.com/all_comments?v=C7qzekzmPMc
###