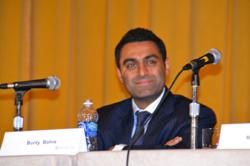 "Have a leg in each country: USA and India" - Ron Somers, President of US-India Business Council (USIBC)
Philadelphia, PA (PRWEB) May 03, 2011
The student leadership committee of the Wharton India Economic Forum (WIEF) held the 15th WIEF at the Park Hyatt at the Bellevue Hotel in Philadelphia on Friday, April 22th, 2011. The conference was attended by over 450 people; students and professionals from across the United States and India. The theme for this conference was "India: Gaining Momentum," a concept that was at the forefront of all the panel discussions, and the speeches of keynotes Vinod Dham (Co-Inventor of the Pentium Chip) and Robert Blake (U.S. Assistant Secretary of State for South and Central Asian Affairs). Though Deputy Ambassador of India to the United States Arun Singh stated "it's a bold person that will predict the future," he encouraged attendants to "go long in India not short." This set the tone for the conference, which exemplified the optimism of the speakers and attendants that India has arrived on the stage. This optimism is what drove students from around the United States such as the University of California, Los Angeles, Harvard University, and Princeton University to attend the conference. Both Singh and Blake noted the strength of India-U.S. ties; for Blake, this was exemplified by the fact that "over the last decade, Indian investment into the U.S. grew at an annualized rate of 53%"
The 9 panel sessions allowed attendees the opportunity to explore conducting business in India through a number of avenues, including Private Equity and the newly created Defense Panel. The Luxury Goods panel highlighted the growth of an aspirational culture in India. Sanjiv Gupta, former CEO of Coca-Cola India, noted that "every sector has to plan for a significant luxury segment." Both Gupta and another speaker, Tikka Shatrujit Singh of Louis Vuitton, noted that India's anti-counterfeit laws and enforcement made India better than other Asian markets for selling luxury goods. The Private Equity panel highlighted many of the gains and challenges of investing in Indian companies. Stephen Sammut, Senior Fellow at Wharton Healthcare Management and Venture Capital investor, noted that in the past six years, over $60 billion was invested by Private Equity and Venture Capital firms in over 1600 businesses in India. The panelists then delved through the issues they faced investing in India, and the developments that affect their businesses.
Afterwards, the conference concluded with a performance by Penn Masala and the Keynote Panel. The Keynote panel gave the conference a holistic look at India's growth momentum and featured: Bunty Bohra (CEO Goldman Sachs India), Sashi Mukundan (Country Head, BP India), C. P. Gurnani (CEO Mahindra Satyam), Ron Somers (Chair of the US-India Business Council), and Robert Blake. The speakers discussed many of the barriers of India's growth story, with Mr. Bohra arguing that fatalism and the NIMBY attitude provided large psychological barriers to growth. However the panel moved on to a high note with Ron Somers stating that "most of our problems will be solved by high technology and defense collaboration will open hitherto unseen avenues for India-US ties."
The business-centered focus this year allowed speakers, students, and professionals to engage in intimate discussion of conducting business in India. The quality and depth of the panel discussions were unparalleled at this conference.
WIEF teamed up with India Knowledge @ Wharton, the Wharton School's award winning online journal of business analysis and commentary, to capture audio and video interviews as well as print articles the insights provided by the high level speakers in attendance. For more information visit: http://knowledge.wharton.upenn.edu/india/.
The conference was sponsored by some of the leading brands across the world. This year's platinum sponsors include the Tata Group and KSK Energy. The Indian School of Business, Motilal Oswal, Deutsche Bank and Incredible India served as Gold Sponsors, with the Boston Consulting Group, the Lauder Institute, The India Way, and IREO as general sponsors. Brahma Management and Tally Solutions served panel sponsors. Our media partners this year were the: US-India Business Council, Local Talk, Little India, Siliconeer, India Abroad, IndUS Business Journal, TV Asia, and NRIPulse.com.
For further information regarding the conference, please contact Kabir Singh Bedi, via phone at +1(443)-996-0747, or via email at kbedi(at)wharton(dot)upenn(dot)edu
###