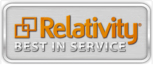 "SFL Data's commitment to their customers is evident through the team's outstanding service and support of Relativity," said Andrew Sieja, president and CEO of kCura. "We are happy to acknowledge that commitment with the Best in Service distinction."
San Francisco, CA (PRWEB) May 02, 2011
SFL Data, the first provider of a fixed-price e-discovery managed service to corporations and law firms, has been recognized as a Relativity Best in Service partner by kCura, the developers of the e-discovery platform Relativity. To maintain this recognition, partners must fulfill year-round evaluations on technical capabilities, sales performance, strength of references and more.
"SFL Data's commitment to their customers is evident through the team's outstanding service and support of Relativity," said Andrew Sieja, president and CEO of kCura. "We are happy to acknowledge that commitment with the Best in Service distinction."
"Relativity is an essential step in our e-discovery managed service because it provides the customized workflows needed to manage, track and report on terabytes of data. Our IT team invests countless hours in evaluating e-discovery technology tools, and Relativity has proved to be the most cost-effective platform available," said SFL Data CEO Christian Lawrence.
The evaluation process for the Relativity Best in Service program consists of an audit of a partner's Relativity environment, as well as customer references. The new Best in Service recognition expands on SFL Data's recent Relativity Certified Reseller status, and offers clients greater assurance of a positive Relativity experience. SFL Data has been a Relativity partner since 2008.
About kCura
kCura are the developers of the e-discovery software Relativity. Relativity is a web-based platform servicing the review, analysis, and production stages of the EDRM. Relativity also powers kCura's legal hold management solution, Method, which is a workflow and notification system designed to manage legal hold and risk assessment processes. kCura helps corporations, law firms, and government agencies with e-discovery challenges by installing Relativity and Method on-premises, as well as providing hosted, on-demand solutions through a global network of partners in Asia, Australia, Europe, and North America. For more information about Relativity and Method, contact kCura at info@kcura.com or visit http://www.kcura.com.
About SFL Data:
SFL Data is the first e-discovery service provider to deliver a fixed-price managed service that enables Fortune 500 corporate legal departments and law firms to gain a world-class e-discovery function without building it. The outcome – dramatically reduced litigation costs (over 50%), better control and visibility, and defensible results. SFL Data's clients include Oracle, T-Mobile, and Yahoo! as well as more than 100 AmLaw 250 law firms. Founded in 1998, SFL Data is a privately held company based in San Francisco. For more information, please visit http://www.sfldata.com.
###