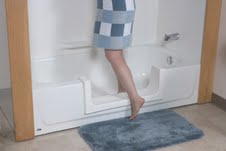 The EZ Tub Step is a simple and attractive modification that installs into the current fiberglass, steel, or even cast-iron bathtub
Austin, TX (PRWEB) May 02, 2011
Taking a daily shower for the Austin Metro area's mobility-challenged and their caregivers can be a daunting and stressful task. According to the National Council on Aging (NCOA), one in three Americans aged 65+ falls, and those falls can lead to hospitalization, injury, loss of independence, and sometimes death. An Austin walk in shower can make all the difference.
Leading Austin surface refinishing company, All Surface Renew, is offering an alternative option to the traditional Austin bathtub to shower conversion: a professional, affordable, and expedient bathtub modification that converts an existing standard bathtub into an Austin walk in tub for those with mobility issues. This 2-3 hour process involves removing a portion of the front wall of a bathtub and installing a plastic slip-resistant step over the area - allowing a person to simply step through the bathtub side instead of having to balance awkwardly while raising each leg up and over the barrier-like sidewall.
The installation of a durable and textured slip resistant floor surface, along with sturdy mounted safety grab bars on the bathtub surround walls can add even greater safety by further reducing the chance of losing one's balance in a wet and slippery bathtub area.
The EZ Tub Step is a simple and attractive modification that installs into the current fiberglass, steel, or even cast-iron bathtub. A portion of the front entry-side wall of the bathtub is selected and measured, 24 inches wide by 9 inches tall, carefully cut and removed, and then custom fitted with a reinforced water-tight, slip-resistant step. Using a regular shower curtain easily maintains water inside the tub during a shower.
Austin handicap bathtubs and Austin ADA showers have typically been options for few Austin-area residents because of the high cost and time requirement for the extensive bathroom remodeling involved. Removing a bathtub, wall surround, moving walls, reconfiguring plumbing, and dealing with permits to install an oversized safety tub in space-limited bathrooms all have made the process cumbersome and frustrating.
Jose Olmedo, operations manager says "We love helping our clients maintain their freedom and happiness by continuing to live safely in their own homes. They shouldn't need to prematurely move into a care facility simply because they couldn't get their bathroom made more accessible quickly and inexpensively. Our clients and their children are often surprised they haven't heard of this service much sooner."
Will Olmedo, marketing director, says "We are well known for the bathroom and kitchen surface refinishing work that we do here in the Austin area, and we are now highly focused on getting the word out about this service. We feel everyone knows someone that can benefit with this service ."
Persons with a need for safer tub access are encouraged to call and see if this solution may work for their particular situation.
Jose Olmedo recommends looking for the following 4 characteristics when choosing a company to complete a bathtub modification project:
1. Good standing and Accreditation by the local BBB (Better Business Bureau)
2. A Money-Back Guarantee on work performed
3. Video testimonials from actual clients
4. A video library of various actual completed projects
All Surface Renew proudly serves homeowners, Realtors, contractors, and home stagers in the Greater Austin area. Their unique refinishing process can be used to restore surfaces on porcelain, fiberglass, cultured marble, laminate and even Formica® kitchen countertops. The results are long-lasting and beautiful. They also provide an affordable bathtub modification that installs into most existing standard bathtubs in 2-3 hours. The results are attractive and functional.
All Surface Renew offers a 5-Year transferable guarantee against failure of adhesion. Refinished surfaces should last at least 10 years with the same care recommended by new tub manufacturers. To see videos and pictures of refinished fixtures and the EZ Tub Step modification and to learn more about how All Surface Renew's process can upgrade a bathroom or kitchen, visit http://www.AllSurfaceRenew.com or call 512-788-0027.
###