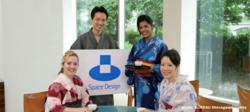 We join the rest of Japan in not wanting to get back to 'the norm' but to create a 'New and Improved Japan.' We all believe this is a game-changing opportunity for a long-awaited era of growth and evolution.
Tokyo, Japan (PRWEB) May 04, 2011
Japan is poised to be stronger, smarter and even more determined as it steps forward from the triple punch earthquake, tsunami and nuclear emergency in the Northeast. Space Design's new residential hotel, BUREAU and B-SITE Serviced Apartments and BUREX Serviced Offices offer peace of mind, accessibility and full support to businesses and individuals returning to the "New" Japan.
According to Japan's Justice Ministry, some 531,000 foreigners left Japan in the four weeks from March 12 to April 8, wreaking havoc on Tokyo's hospitality industry. At the peak, hotels across Tokyo and Yokohama were below 40% occupancy despite the beautiful cherry blossoms in full bloom and the fresh spring air that usually draw crowds from across the globe.
"Our serviced apartment buildings were no exception. We saw some 300 serviced apartments vacated following the quake as Embassies and large corporations adopted policies to remove citizens and staff from Tokyo until the situation improved. It was very slow until mid April when the US, Sweden, Canada and the UK eased their travel warnings," says Ruth Shiraishi, Director of Business Development at Space Design Inc. "By late-April the European and US Chambers were encouraging their members to 'Get Back to Business as Usual in Tokyo' as a way to best support Japan's rebuild and we can see clearly that most of these firms have turned the advice into action as we have received orders for some 200-plus apartments since April 20," she adds.
Space Design Inc., serves the business community in Tokyo and Yokohama with its short to extended stay furnished accommodation, BUREAU and B-SITE buildings as well as with flexible and fully serviced office space for one to twenty people in its low-rise, well-located BUREX and BUREAU SOHO buildings. Adding to the repertoire, the B-CONTE Residential Hotel in Ariake and Asakusa (slated to open in late May) offers furnished and serviced apartments with full kitchen available for short stays.
Ruth continues, "We feel our apartments and office space meet the demands of firms and individuals in the post-quake situation. First, all our buildings are under 13 years and built according to Japan's stringent anti-earthquake construction codes. Second, they are in areas (Minato-ku, Chiyoda-ku and Chuo-ku) that are unlikely to be affected by possible rolling blackouts this summer making them a perfect location for remote office access where the guest can easily get as much work done from home as they would in the office. Thirdly, each building is under 10 minutes walk from Tokyo and Yokohama hub train stations for great access to subway, bullet-train and airports. Finally, each building is less than 24 stories high and we have many units on lower floors so guests can avoid 100 percent dependence on elevators (in case of power outage or emergency). We also understand that our generator in BUREAU Shinagawa can run the building for 30 minutes and this enables companies placing staff here to feel sure there is ample time to secure data, etc., in a temporary loss of electricity."
As the Japanese Government earmarks funds for the huge rebuild and companies start to review their strategy for Japan and how to join the effort, Space Design's residential hotels, serviced apartments and offices are poised to provide key infrastructure and warm hospitality to an ever increasing number of short to extended stay guests.
Ruth and her team stress, "We join the rest of Japan in not wanting to get back to 'the norm' but to create a 'New and Improved Japan.' We all believe this is a game-changing opportunity for a long-awaited era of growth and evolution."
Space Design serviced apartments and offices offer each guest access to an exclusive 24-hour toll-free English/Japanese hotline. Guests can reach friendly staff about anything any time and staff offer service support in English, Chinese, Korean, Hindi, etc. Each guest and corporation is provided a dedicated account representative for utmost service continuity.
Each apartment features full kitchen, washer/dryer, full-furnishings, direct phone/fax line, housekeeping/linen service, large work desk, and more. Prices range from 150,000 yen to 600,000 yen/month for studio and one bedroom apartments with utility fees and all other facilities included in the rent. Serviced office space is also available for 1 to 20 person requirements with reception, meeting space, 24-hour building access, two to three tier security, individual heating/cooling units, and large window space on each unit.
For more information, contact
Space Design Inc.
Nippon Press Center Building, 2F
2-2-1 Uchisaiwaicho, Chiyoda-ku Tokyo 100-0011
Tel: 81-(0)3-3502-7777, FAX: 81-(0)3-3502-7235
URL: http://www.space-d.co.jp
Media contact:
Ruth Shiraishi, Director of Business Development 81-(0)3-3502-7234
shiraishi-r(at)space-d(dot)co(dot)jp
About Space Design Inc.
Space Design Inc. is a real estate developer that manages 16 fully furnished and serviced apartment buildings across Tokyo and in Yokohama. It also manages the B-CONTE Residential Hotel series, one in Ariake and another slated to open in late May, in Asakusa. Space Design Inc. also operates serviced office buildings under the BUREX brand and has a Japanese style residential hotel in Dubai called Ziqoo Hotel Apartments. Space Design follows a strict "4 F" policy of "Fast, Friendly, Flexible and Fair" in every aspect of customer service. Campaign Rates currently in place. Please contact Space Design Inc. today.
###