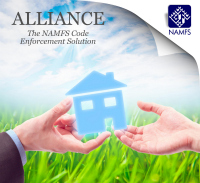 ALLIANCE facilitates a cooperative exchange of information which enables all parties to connect via a common platform before engaging in a lengthy and potentially expensive violation recording and remediation process.
Stow, Ohio (PRWEB) May 03, 2011
The National Association of Mortgage Field Services (NAMFS), the premier trade association for the mortgage field service industry, announces the launch of ALLIANCE – The NAMFS Code Enforcement Solution.
This free web-based tool, located at http://www.namfs.org, will facilitate and streamline communication and collaboration between local code enforcement officials and the top national field services providers for the mortgage servicing industry. Code enforcement officials can register and input property-specific information, including the code-related issues, comments and potential fines if not addressed. NAMFS' participating members then receive this information in real time and agree to (a) review those violations and initiate contact with the appropriate code enforcement officer, or (b) indicate they do not service the property.
The desire for an independent communication platform to improve the communication flow between these two entities is not new. NAMFS has taken the opportunity to fill this need with ALLIANCE, a solution that provides more data and a better information exchange. This functionality is the initial step for the Association as it seeks to provide solutions to the field service industry and the communities impacted by the housing crisis.
NAMFS implemented a targeted sampling group of Florida code enforcement officials and national field servicing companies for early adoption of ALLIANCE beginning in mid-April. Feedback from both groups has been overwhelmingly positive with users finding the real-time capabilities of the system a significant asset in the campaign to diminish unnecessary property violations and neighborhood blight. The straightforward entry and response system has several time saving features to streamline review and response. Data captured offers users the opportunity to quickly identify the status of a property while simultaneously outlining the severity of the issues to be addressed.
NAMFS plans on continued outreach to the code enforcement community through industry communications, webinars and newsletters. There are also plans to participate in code enforcement events, as well as partner with member companies using ALLIANCE. For additional information please contact Eric Miller, Executive Director, at 888-292-6831 or eric.miller(at)namfs(dot)org.
About NAMFS
The National Association of Mortgage Field Services, Inc. (NAMFS) is the premier trade association for the mortgage field service industry. We are dedicated to working with all entities of the industry from the Government Agencies and investors that set policy to the contractors and inspectors that perform the work. For more information visit http://www.namfs.org.
###