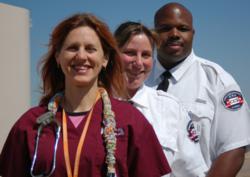 Corrections is a public service that is so critical to the safety of our communities.
Nashville, TN (PRWEB) May 02, 2011
During this year's National Correctional Officers and Employees Week, CCA celebrates the nearly 17,000 correctional professionals whose daily commitment to operational quality and high standards makes it the nation's leader in partnership corrections.
This special time runs the first full week of May annually – this year from May 1-7, 2011 – and was officially proclaimed by President Ronald Reagan in 1987. National Correctional Officers and Employees Week honors the "capable handling of the physical and emotional demands made daily" upon those who work in the nation's prisons, jails and detention facilities.
It also acknowledges that corrections is a profession that "requires careful and constant vigilance … as these dedicated employees try to improve the living conditions of those who are being confined."
"Corrections is a public service that is so critical to the safety of our communities," said Damon Hininger, CCA president and chief executive officer, who began his career as a correctional officer at CCA's Leavenworth Detention Center after graduating from college. "It's a profession built on pride, integrity and courage."
At CCA – and in corrections more broadly – professionals work in security, education, rehabilitation, health services, management and administration. CCA correctional centers have been compared to the self-sustaining cities because of the broad and varied range of specialty career positions needed for them to function each day.
To that end, CCA professionals undergo many hours training to equip them to serve in the roles. For example, correctional officers and security staff, who represent a large portion of CCA's national workforce, must complete a total of more than 200 hours of correctional education during their first year with the company, with a focus on cultural awareness, defensive tactics, problem solving, communication, report writing, security procedures and much more.
"The men and women who work in this field are trained professionals – correctional officers, teachers, counselors, nurses," Hininger said. "They've been entrusted to assume a great responsibility to inmates, their families, community members and decision-makers. They take this seriously, each day working to keep people safe and provide inmates an opportunity for a better path in life once they are released."
Additionally, many CCA employees support the company's mission of being a strong corporate citizen by contributing in meaningful ways to their communities. The CCA Communities Blog showcases stories of volunteerism, heroism and goodwill performed by CCA employees throughout the country.
"Community outreach is a natural extension of the important public service work that we perform in corrections," said Brian Collins CCA executive vice president and chief human resources officer. "Our employees are known for fundraising, organizing charitable events and otherwise supporting worthwhile endeavors."
Throughout the month of May, CCA facilities will be organizing events to honor employees during National Correctional Officers and Employees Week. Visit InsideCCA to see photographs and read testimonials from CCA facilities as they chronicle this special time.
About CCA
CCA is the nation's largest provider of partnership corrections to federal, state and local government, operating more than 60 facilities, including more than 40 company-owned facilities, with approximately 90,000 beds, in 19 states and the District of Columbia. In addition to providing the residential services for inmates, CCA facilities offer rehabilitation and educational programs, including education, vocation, religious services, life skills and employment training and substance abuse treatment. For more, visit http://www.cca.com and http://www.ccacommunities.com.
# # #