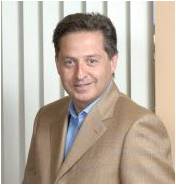 "In the near future, retailers and wholesalers will be looking to capitalize on their transactional systems. From my vantage point, the only company well-positioned to provide such functionality, both in depth and in breadth, is Jesta I.S."
New York, NY (PRWEB) May 02, 2011
Jesta I.S. Inc., a leading supplier of enterprise business solutions for retailers, manufacturers and distributors primarily in the soft goods and specialty industries worldwide, has appointed Moris Chemtov as President, effective May 2nd, 2011.
With over twenty-seven years of successful business experience in retailing, manufacturing and distribution systems, and a proven track record in delivering outstanding service to a varied client base, Mr. Chemtov is the ideal professional to lead the Jesta I.S. team to the next level as it positions itself to be the premier supplier of retail and manufacturing supply chain solutions.
Most recently, Mr. Chemtov served in a leadership capacity at Deloitte Consulting as a Director. Prior to joining Deloitte, Mr. Chemtov was the founder and President of TIE Consulting Inc., a firm specializing in retail management consulting. In addition, Mr. Chemtov has held a series of senior management positions with several esteemed firms, such as Retek Inc.(now Oracle) and Richter Systems (now Jesta I.S.). He is a team builder and has forged strong, wide-ranging relationships with many of today's leaders in the specialty and soft good industries.
"In the near future, retailers and wholesalers will be looking to capitalize on their transactional systems. From my vantage point, the only company well-positioned to provide such functionality, both in depth and in breadth, is Jesta I.S." as quoted by Mr. Chemtov.
About Jesta I.S. Inc.
Jesta I.S., a privately-owned Canadian company, offers end-to-end solutions, empowers retailers, wholesalers and manufacturers to increase visibility across both their internal and external supply network, through the use of a single platform. Serving both North American as well as International retailers, Jesta I.S. counts many major market leaders, leading brands and market innovators as clients, including Perry Ellis International, PUMA, Genesco Inc., Town Shoes Limited, Cole Haan, Haggar Clothing Co., Cavender's Boot City and DSW Inc. among others. Jesta I.S. has created a solid upgrade path and implementation methodologies in order to ensure continued satisfaction and secured investment for their clients. Additional information is available at http://www.jestais.com
Copyright (2011) Jesta I.S. Inc. ALL RIGHTS RESERVED. All information contained in this document is the property of Jesta I.S. Inc.
Jesta I.S. Inc.
Marketing
1-888-925-5152
marketing(at)jestais(dot)com
# # #