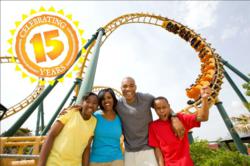 Valdosta, GA (PRWEB) May 03, 2011
Wild Adventures Theme Park (WA) gives guests more reasons to stay close to home this summer with special events and offers to continue its 15th anniversary celebration. The park invites season passholders to Rock the Park with a special Season Pass Appreciation Concert in July and FREE soda refills on select days for guests with souvenir cups.
WA gives Season Passholders the star treatment with one pair of free reserved concert seats per pass for the World Classic Rockers concert Saturday, July 23 at 8:00 p.m. Beginning Wednesday, June 15, Season Passholders can visit the park to receive two reserved concert seats for the performance, featuring rock stars from Santana, Journey, Boston, Steppenwolf, Toto, and Lynyrd Skynyrd. This offer is only available at the park, on a first-come first-serve basis, valid for two reserved seats per valid 2011 Season Pass.
Keeping with the 15 year theme, guests can fill up on soda for free on designated days throughout the summer. The park will offer free refills on 2011 souvenir cups Sunday, May 15, Wednesday, June 15, and Friday, July 15. This offer is only available for fountain beverages to guests who have a 2011 souvenir cup. Souvenir cups are available throughout the park for $8.59 plus tax and good for 99 cent refills all season long.
WA kicked off its 15th birthday celebration this spring by giving away $15,000 in 15 days during Rock the Park, March 26 – April 9. Lucky $1,000 winners were Geneva Pierce from Woodbine, GA; Janet Hale from Citra, FL; Kathy James from Saint Augustine, FL; Randy Scheib from Silver Springs, FL; Mia Fitzgerald from Orlando, FL; Rachel Bloodworth from Pineview, GA; Paul Swedlund from Lynn Haven, FL; Alissa Clifton from Niceville, FL; Rishonda Arnold, from Albany, GA; Marcy Chancey from Alma, GA; Amber Stephens from Lake Park, GA; Lori McCardle from Thomasville, GA; Terri Morgan from St. Helena Island, SC; Zella Dean from Castlewood, VA; and Eva Flick from Ocala, FL.
Wild Adventures is a 170-acre theme park, water park, and animal park all in one place for less located in Valdosta, Georgia. The park features one of the largest ride collections in the South, more than 500 wild animals, Splash Island Water Park, the region's largest water park, shows, festivals and all-star concerts. The park is owned and operated by Herschend Family Entertainment (HFE), a company specializing in family entertainment. For nearly half a century, HFE has owned, operated or partnered in 26 properties across ten states, including Branson, Missouri's Silver Dollar City; operating partner with Dolly Parton in Tennessee's Dollywood and Dollywood's Splash Country; operating partner in Atlanta's Stone Mountain Park and owners of Ride the Ducks amphibious tours in six cities.
###