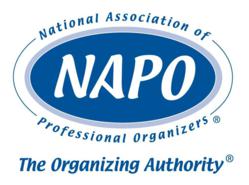 Mount Laurel, NJ (PRWEB) May 04, 2011
The National Association of Professional Organizers (NAPO) announces the winners of the 2011 Organizing Excellence Awards, presented at its 23rd Annual Conference and Organizing Exposition held in San Diego, California.
Soles4Souls, the international shoe charity based in Nashville, Tennessee, was honored for the incredible organizational effort required to successfully coordinate the collection and distribution of more than 13 million pairs of new and gently worn shoes in more than 125 countries. By encouraging and facilitating shoe donations, Soles4Souls provides relief and support to those in need around the world while helping people de-clutter their homes for a good cause. NAPO will continue to partner with Soles4Souls in 2011 through a contest in which NAPO's 4,000 members will compete to collect one million pairs of shoes before the 2012 Annual Conference.
"We are incredibly honored to receive this award from our friends in the National Association of Professional Organizers," said Wayne Elsey, Founder and CEO of Soles4Souls. "Collecting and donating your shoes is such an easy act, and anyone can get involved. Making the process easy and painless is the most important part of getting individuals across the country motivated for change."
NAPO also honored FedEx, the first ever private sector recipient of the award, for its long history of delivering on the promise of on-time delivery through strategic and tactical organization. On an average day, FedEx companies deliver more than 8.5 million shipments, involving the coordination of nearly 700 planes and more than 80,000 motorized vehicles serving more than 220 countries and territories. The massive organizational effort required for FedEx to provide time-sensitive service directly affects the profitability and productivity of millions of individuals and businesses around the world – and it is the reason NAPO chose to recognize FedEx.
"At FedEx we relate to NAPO's dedication to helping individuals and businesses bring order and efficiency to their lives," said John Fitzpatrick, Managing Director of Southern California operations at FedEx Express, accepting the award. "Our global transportation network creates order and efficiency, in our case, to the world of commerce through the careful strategic planning and execution by our team members. On behalf of all 290,000 of our team members at FedEx, thank you very much for this Organizing Excellence Award."
About the Organizing Excellence Awards
NAPO presents the Organizing Excellence Awards annually to recognize individuals or groups who have demonstrated outstanding value and achieved measurable results connected directly to their exceptional organizational efforts. NAPO conducts its search for honorees in the host city of its Annual Conference and Organizing Exposition and considers worthy recipients in the following categories: Business, Community Service, Education, Family or Humanitarian. In the past 17 years, 19 recipients have been honored with this prestigious award.
Visit napo.net for more information about NAPO's 23rd Annual Conference and Organizing Exposition and the Organizing Excellence Awards.
About NAPO: The Organizing Authority®, The National Association of Professional Organizers (NAPO) is the premier association dedicated to the field of organizing. Since forming in 1985 as a nonprofit professional educational association, NAPO has been dedicated to serving its members through education, networking, industry resources, and promoting the profession to the public. For more information about NAPO, and to find a NAPO professional organizer in your area, visit http://www.napo.net or call 856-380-6828.
# # #