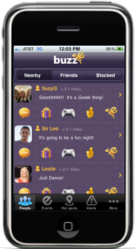 If people are here to socialize and they are already playing with their phones why not marry the two?
Saint Louis, MO (PRWEB) May 03, 2011
In April of 2010 one of BuzzE's founders walked into an area restaurant and noticed that over at the bar there were whole tables of people fiddling with their smart phones. This generated a simple idea. If people are here to socialize and they are already playing with their phones why not marry the two? That simple concept was fulfilled today when BuzzE launched for the iPhone taking proximity based social networking in a new direction. The free iPhone app helps users find places to go and then gives them an easy way to make new friends once they arrive. BuzzE was designed by social people for social people who want to make friends and new connections anywhere they go.
For people planning a night out BuzzE helps answer the question of "Where should I go?" with hundreds of thousands of public event listings in communities across the United States including everything from live bands to poetry readings, and allows users to add their own private events to share among friends giving BuzzE users a one stop shop to find things to do in their area. BuzzE also provides a map of hot spots showing in clear weather map style colors where people are congregating allowing them to join the crowd or avoid it as their tastes dictate.
Once at a social destination BuzzE lets users interact with other nearby users with full chatting capabilities, gift exchange, and ice breaker games. Games are designed with an eye to helping users get to know the people around them in a casual way. Users can then friend other people they like and stay in contact with them through BuzzE anytime they want. BuzzE also provides full integration with Facebook for users who want to connect their mobile social experience to their larger social media presence.
What once started as a basic idea to let people at a bar send each other virtual drinks has evolved into a complete social platform with additional features planned for later in May and an Android release in development. The company's long term goal is to make BuzzE the Swiss army knife of social apps by providing the best platform for people who simply want to meet people and make friends wherever they go.
BuzzE is free on the iPhone App Store
###