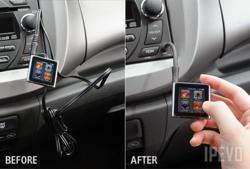 The idea for Bendi came about from our own frustrations in using Nano in the car with conventional cables
Sunnyvale, CA (PRWEB) May 04, 2011
IPEVO, Inc., a designer and maker of products for emerging Internet-driven behaviors, has introduced its newest product, Bendi 3.5 mm Audio Connector Mounts. The product will be available for purchase starting May 04, 2011 at a price of $14.95, and will be sold through IPEVO's online store (http://www.ipevo.com).
Bendi is a flexible mounting device designed specifically for Apple's sixth-generation iPod Nano. Bendi connects the Nano to newer model cars and aftermarket car stereos featuring an auxiliary line-in input. Unlike traditional 3.5mm audio connection cables, the stiffer Bendi supports the Nano in a position convenient to view and operate the device while driving. Bendi suspends the Nano near the gear shift and above the center console of the vehicle, though position varies depending on car and stereo models.
Each package of Bendi comes with two connector mounts, one with a standard length of 5.12" (130mm) and a longer one measuring 6.7" (160mm). According to IPEVO, two connector mounts are included so that the user has two options depending on stereo input placement and personal preference. The other connector can then be used for another car or home stereo system.
Other features of Bendi include a shape and coloring intended to visually complement both the Nano device and a typical car interior. Each end of Bendi has an inverted cone-shaped grip to facilitate insertion and removal of Bendi. Connectors themselves are gold-plated for optimum electrical conductivity and audio quality.
"The idea for Bendi came about from our own frustrations in using Nano in the car with conventional cables," explained Royce Hong, CEO and big head of design of IPEVO. "These cables clutter your car and they offer no support for your Nano, meaning you're usually scrambling to locate the player while driving. With Bendi, your Nano is mounted in the perfect position to view and use, near your right hand above the center console. We feel Bendi is the best way to connect up your Nano on the road."
Though Bendi was designed for iPod Nano 6G, the company reports that the connectors will work with iPod Shuffle, older generations of Nano, and most all digital music players featuring the standard 3.5mm audio input.
Bendi 3.5mm Audio Connector Mounts will be available beginning May 04, 2011 exclusively through IPEVO's online store at http://www.ipevo.com.
About IPEVO
IPEVO is the online source for innovative and well-designed products that enhance the experience of using computers, smartphones and the Internet. IPEVO makes new experiences for today's connected lifestyle available, accessible and affordable by designing and offering products that best reflect the most current Internet behaviors and emergent technologies. 
For more information, visit http://www.ipevo.com.
###