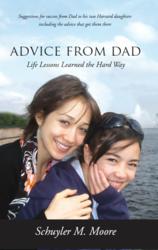 Minneapolis, MN (PRWEB) May 03, 2011
"Advice from Dad" is a charming book that reads like a letter to Moore's daughters, but the lessons learned are for anyone who wants success. Part memoir, part advice book, the author writes with candid humor about his life, drawing on experiences both good and bad to provide insight and wisdom.
Having raised two strong, compassionate daughters, both of whom now attend Harvard, Moore has "living proof" of the value of passing on his life lessons. In addition to their Ivy League education, one daughter is a professional ballet dancer and the other is a nationally ranked high board diver.
Interspersed with interesting stories of his childhood and "suggestions" on everything from kids and studying to money matters and significant others—the end goal of "Advice From Dad" is success, with a strong emphasis on parental involvement.
About the Author: Schuyler M. Moore was named one of the top 100 lawyers in California, has authored several legal texts, and held positions as head of the Entertainment Department at a large law firm. Moore is also an adjunct professor at the UCLA School of Law and the Anderson Business School.
For more information please call or email publicist Jennifer Herron, or visit: http://www.advicefromdad.co
###