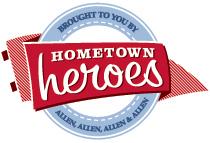 The Allen Law Firm created the HOMETOWN HEROES award last year to celebrate the firm's one hundred year anniversary
Richmond, VA (PRWEB) May 03, 2011
The personal injury law firm of Allen, Allen, Allen & Allen announced today that it is seeking nominations for its annual HOMETOWN HEROES celebration in honor of local individuals responsible for actions that improve communities throughout Virginia. Allen, Allen, Allen & Allen will recognize Hometown Heroes from across the metro Richmond, Fredericksburg, Petersburg and Charlottesville areas. The firm will host four different events celebrating a total of 40 different heroes.
"The Allen Law Firm created the HOMETOWN HEROES award last year to celebrate the firm's one hundred year anniversary," said Douglas A. Barry, President of Allen & Allen. "This year we're honored to again feature those in the community responsible for heroism and community initiatives," said Barry.
Nominations for the HOMETOWN HEROES award, accepted from April 28, 2011 to May 27, 2011, calls for a short profile of the nominee. The public is asked to submit a nomination in one of three ways:
1. Visit an Allen, Allen, Allen & Allen office to complete a simple nomination form.
2. Log-on at http://www.allenandallen.com/hometown-heroes to submit a nomination form.
3. Celebrate at any of the musical events planned for Innsbrook Afterhours 2011 in May and complete a nomination form at the Allen & Allen Sober Ride Home tent.
"Our firm was founded on service and action. Over the past 101 years of Allen, Allen, Allen & Allen, we have been inspired by those in the community, the real heroes who are responsible for improving our local communities but sometimes go unnoticed. Our attorneys and staff have witnessed firsthand the everyday heroism found in our community and want to say thank you," said Barry.
In addition to HOMETOWN HEROES 2011, the law firm is launching an "Allen & Allen Good Deeds Tracker" to complement its goal of indentifying and measuring positive actions – no matter how large or small. Located on their web site at http://www.allenandallen.com/good-deeds.html, anyone can submit a simple – yet impactful – act of kindness that they have performed or have witnessed around them. Allen, Allen, Allen & Allen will keep a running tally of good deeds taken in the community for the public to view their impact throughout the summer of 2011.
About the Firm: Allen, Allen, Allen & Allen is one of the oldest and largest law firms in Virginia limiting its practice to personal injury. In business for over 100 years, the firm currently has 22 attorneys who handle death cases as well as personal injury cases involving motor vehicle accidents, tractor trailer accidents, brain injury, medical malpractice, product liability and more. The Allen Law Firm has eight offices located throughout Virginia in Richmond, Petersburg, Fredericksburg, Mechanicsville, Short Pump, Chesterfield, Garrisonville, and Charlottesville.
# # #