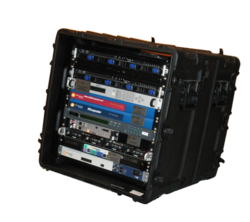 Montreal, Canada (PRWEB) May 02, 2011
Advantech Wireless, a Canadian-based manufacturer of Satellite, RF Equipment and Microwave Systems reported today that Engineers at its SatNet division located in Saint Laurent, Quebec have accepted a new labour agreement and will begin returning to work as early as Monday May 2, 2011.
Advantech Wireless Satellite Networks has been operating with management staff supported by resources at our global facilities. "I am pleased to report that we are now in a strong position to continue our development efforts in next generation VSAT solutions," remarked David Gelerman, CEO. "In fact, with our newly expanded facilities and the return of many of our experienced Satellite Networks engineers we can gain a stronger foothold in the VSAT market."
About Advantech Wireless
Advantech Wireless, an ISO 9001: 2008 certified corporation, is shaping the world with leading-edge wireless broadband communications. Since 1988, Advantech Wireless manufactures and deploys networking solutions for broadband connectivity, broadcast solutions and backhaul requirements using satellite and terrestrial wireless communications. Products include: Terrestrial Microwave Radios, Antenna Controllers, Deployable Antennas, SSPA's, Block-up Converters, Frequency Converters, Satellite Modems and VSAT (DVB-RCS) Hubs & Terminals. For further information please visit the company's web site at: http://www.advantechwireless.com
###