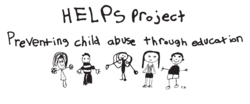 Phoenix, AZ (PRWEB) May 04, 2011
Across our nation, over three million children are victims of child abuse each year. April is National Child Abuse Prevention Month, and numerous events are underway in Arizona to help protect our children and prevent abuse and its often lifelong and devastating effects.
On April 27, the HELPS Project received a Cherish the Children Award for 2011. The HELPS Project (Highlight Emotional Learning and Personal Safety) is an exemplary, research-based child abuse prevention project designed to help educate and protect kindergarten through fifth grade children. The Cherish the Children Award is given through the Greater Phoenix Child Abuse Prevention Council, a legislatively mandated and supported volunteer organization that works to promote all efforts across Arizona to prevent child abuse. Awards are presented at Greater Phoenix Child Abuse Prevention Council's 15th Annual Conference and Luncheon held this Wednesday.
The HELPS Project is led by Dr. Missy Gryder, a former elementary school teacher who developed the program in response to the epidemic numbers of children impacted by abuse coupled with a serious lack in quality prevention education services. Gryder offers seven hours of weekly HELPS lessons at no cost to public school districts; lessons integrate Arizona Academic Standards in comprehensive health, language arts, and mathematics. HELPS lessons are also packaged for parents to teach to their children at home with The Body Safety Box, available at http://www.bodysafetybox.com. A portion of the proceeds benefits the HELPS Project.
Other Cherish the Children Award winners for 2011 include Dr. Stephanie Zimmerman, Medical Director of the Forensics Team at Phoenix Children's Hospital; and Chili Pepper Productions, producer of the Never Shake A Baby media campaign.
###