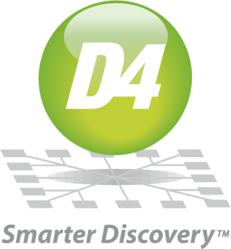 D4 has a very strong technical approach and really understands the strengths of the RiverGlass application and how it can help their clients wade through the huge volumes of data and get a firm handle on the information
Rochester, NY (PRWEB) May 03, 2011
D4, LLC, a national leader in eDiscovery solutions, and RiverGlass, Inc., a leading provider of advanced information collection and analysis solutions, announced today that the two companies have signed an agreement to form a strategic partnership for D4 to distribute, install and host the RiverGlass solutions.
In the first quarter of 2011, RiverGlass announced a Fast Start Program which incorporates RiverGlass' solutions with the top eDiscovery vendors support services. D4's highly technical method to eDiscovery and digital forensics leverages the maximum benefits available from the RiverGlass application.
"As we looked to build upon our success late last year, it was becoming clear to us that in addition to working directly with law firms we should be offering our solution to some of their most trusted partners in the service provider business. Our current client base put us in touch with D4 and it became clear over the next couple of months that our strategic goals were very well aligned," said Kirk Dauksavage, RiverGlass CEO.
"As Electronically Stored Information (ESI) volume continues to grow, our customers require more cost effective tools for early data analysis to organize, visualize and cull ESI at a macro level", said Tom Groom, D4 Vice President of Discovery Engineering. "With RiverGlass, our customers can harvest from many different types of data stores and ingest ESI in native format without having to have it processed. This includes network stores, SharePoint sites, websites, social media as well as structured databases. With the RiverGlass solution, users can then visualize and interact with the data in various ways as they indentify groups of documents to export for a more detailed review. Riverglass exports can be loaded directly into review applications, such as Relativity, without having to first go through processing. This makes the ROI provided by the RiverGlass solution very compelling for our customers."
"We are extremely excited to begin working with D4", said Mary Pat Poteet, RiverGlass Vice President of eDiscovery. "D4 has a very strong technical approach and really understands the strengths of the RiverGlass application and how it can help their clients wade through the huge volumes of data and get a firm handle on the information".
D4 and RiverGlass will be at the CEIC 2011 Conference in Orlando, May 15th-18th, booth number 707. Please call D4 at 800-410-7066 to schedule a meeting or demonstration.
About D4, LLC
D4, LLC is national leader in litigation support and e-Discovery services to law firms and corporate law departments. D4 covers the spectrum of the Electronic Discovery Reference Model (EDRM), from identification and preservation of data through forensic and targeted onsite data collection; from data analytics and defensible search methodology through hosted review and production. D4 assists attorneys in litigation response planning, strategies for negotiation of scope and meet-and-confer, computer forensics, expert testimony and cost reduction practices in litigation support projects. Founded in 1997 and through its combination and rebranding with Doculegal, D4 has grown to a national presence. With nearly 100 staff, D4 offers full-service locations in Rochester, Buffalo, Tampa, Lincoln, Omaha, New York City, Grand Rapids and San Jose. D4 fields consultants and project managers from New York, Colorado, Rhode Island, Michigan, San Francisco, San Diego and Washington DC. State-of-the-art data center operations in Rochester are complemented by electronic discovery and litigation support paper document services throughout the United States. In 2010, D4 was recognized in the "Top Five" of the "Rochester Top 100", honoring the fastest growing companies in Western New York. For more information contact D4 at marketing(at)d4discovery(dot)com or visit http://www.d4discovery.com.
About RiverGlass
RiverGlass, Inc. (http://www.riverglassinc.com) is a leading provider of advanced information collection and analysis solutions. The company was formed in 2003 and leverages eight years and $20mm of R&D efforts from the former Mosaic development teams at the University of Illinois at Urbana-Champaign (UIUC). RiverGlass provides solutions to government agencies and commands in defense, intelligence and law enforcement as well as eDiscovery and risk management applications to major corporations. RiverGlass is a private company with principal offices in West Chicago and Champaign, Illinois. The development of the RiverGlass technologies was funded in part through a grant by the Illinois Department of Commerce and Economic Opportunity.
###