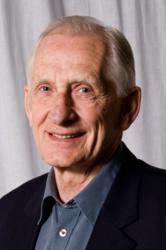 Awards such as this are never the result of just one person's efforts.
Ottawa, Ontario, Canada (PRWEB) May 05, 2011
The Athena Sustainable Materials Institute is pleased to announce that its Past President, Mr. Wayne Trusty, was recently honored with a Lifetime Achievement Award by the Canada Green Building Council (CaGBC). The award was presented at the evening gala of the CaGBC's National Symposium on Wednesday, April 3, 2011 in Toronto, in recognition of Mr. Trusty's contribution towards the CaGBC's mission and goals of accelerating green building in Canada.
When reached for comment, Mr. Trusty stated that he was deeply honored to receive this award from the CaGBC. He commended his colleagues and associates at Athena, stating that, "awards such as this are never the result of just one person's efforts."
CaGBC President and CEO, Mr. Thomas Mueller, expands on Mr. Trusty's contribution to the advancement of green building: "Through his science-based Life Cycle Assessment work he was contributing to the knowledge and science of green building long before there were green building councils." He also recognizes Mr. Trusty's years-long participation on a number of boards and committees of both the Canada Green Building Council and the U.S. Green Building Council.
A total of eight awards were handed out at the CaGBC gala, recognizing individual and organizational leadership in the categories of Chapter Leadership, Government Leadership, Industry Leadership, CaGBC Volunteer, Green Building Champion, Education Leadership, Lifetime Leadership, as well as the Andy Kestaloo Memorial Student Project Award.
Mr. Trusty was recently honored with another award: he was named 'Green Building Advocate of the Year' by State University of New York's College of Environmental Science and Forestry in conjunction with the U.S. Green Building Council, New York Upstate Chapter.
An internationally recognized Life Cycle Assessment expert, Mr. Trusty started his own consulting practice in 1972 after gaining experience with such organizations as Acres Consulting Services and Stanford Research Institute, and has since worked on a wide spectrum of subjects including the environment, forest industry economics and forest policy, water resources, transportation, energy policy and markets, and regional development. He has also served as economic adviser on several large projects, including the Canadian Arctic Gas Pipeline project, and has appeared as an expert witness before regulatory bodies in Canada and the United States, particularly with regard to the cost-benefit and sustainability aspects of projects.
Mr. Trusty began his association with the organization as Project Manager of 'The Athena Project' in 1991, six years before the founding of the Institute, and now, as Past President, continues to work closely with Athena and to share his knowledge and expertise with the sustainable building community through his work on boards and committees. In addition he is a sought-after provider of education on Life Cycle Assessment at sustainable infrastructure and building conferences, and as faculty for architectural and other professional association continuing education programs.
About the Athena Sustainable Materials Institute
The Athena Sustainable Materials Institute is a not for profit research institute dedicated to fostering the sustainability of the built environment. Athena uses life cycle thinking, applying life cycle management tools and sustainability metrics to help its members and clients benchmark the environmental performance of their facilities and operations and identify areas for improvement. Athena supports education on the life-cycle impacts of building materials and assemblies that helps all stakeholders make more informed decisions about appropriate use, technology and development of products within a whole system framework.
Renowned for its internationally acclaimed life cycle inventory databases and life cycle assessment software and tools, Athena is credited with putting the application of LCA to the built environment on the map with its development of the Impact Estimator (IE) – the only North American software tool that evaluates the embodied effects of whole buildings and assemblies. Athena also offers a range of Life Cycle Assessment Consulting Services, including carbon footprint consulting. Athena has completed carbon footprint consulting projects for numerous clients in accordance with varying standards (e.g., the GHG Protocol, IPCC, and PAS2050) and has aided clients in their submissions to voluntary registries (e.g., the Carbon Disclosure Project).
###