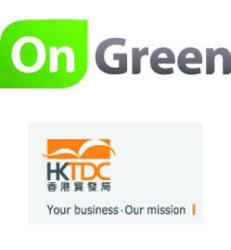 It is clear in today's cleantech environment that innovation and investment capital are not always in the same location - OnGreen CEO Nikhil R. Jain
(PRWEB) May 03, 2011
OnGreen announced today that the company has sourced eleven companies to participate in Hong Kong Trade Development Council's (HKTDC) upcoming consortium of active Chinese cleantech investors. Between fifteen to twenty investors from Hong Kong and Jiangsu Province will meet with a range of cleantech companies seeking investment capital or project financing at the Millenium Biltmore Hotel in downtown Los Angeles on May 4th.
"The Hong Kong Trade Development Corp is excited to be utilizing OnGreen, the world's largest cleantech marketplace, to source and accelerate investment opportunities for our upcoming Hong Kong-Jiangsu Technology Investment Mission," said Dannie Chiu of HKTDC. "With over $2 billion of investment opportunity in their deal marketplace, OnGreen is the perfect platform to help link our investors with the most promising global investment opportunities from over 35 countries."
The consortium traveling to Los Angeles represents several holding groups, each with specific investment interests. For example, Wuxi C.A.N. Import & Export Co. wants solar photovoltaic products, while Suzhou Chaungyuan Investment & Development Group is focused on alternative energy generation, low/zero-emission vehicles and air and water purification.
"It is clear in today's cleantech environment that innovation and investment capital are not always in the same location" said Nikhil R. Jain, CEO and founder of OnGreen, Inc. "The Los Angeles event is the latest example of the cleantech investment bridge that OnGreen is building between China and the United States and creating alternate avenues of financing for entrepreneurs as part of our mission of democratizing cleantech funding." Other notable events related to China include:

In June, the company will lead a road show of 30 top entrepreneurs from OnGreen.com to China to meet with 20-30 Chinese investors from the public and private sectors.
In April, several OnGreen start-ups met with a delegation of investors from the Zhejiang province at UCLA's Office of Intellectual Property.
In March, investors from Jiangsu province viewed demos by start-ups at OnGreen's launch party at the Renaissance Hotel in Hollywood.
In February, OnGreen opened a Shanghai office and hosted a cleantech networking event with 110 entrepreneurs, investors and other industry stakeholders.
In January, OnGreen partnered with the Joint U.S.-China Collaboration on Clean Energy (JUCCCE) to explore how best to match Chinese capital with U.S. innovation.
Last November, OnGreen raised its own Series A investment from Shanghai-based China Southern Hong Kong Investment Ltd.
About HKTDC
A statutory body established in 1966, the Hong Kong Trade Development Council (HKTDC) is the international marketing arm for Hong Kong-based traders, manufacturers and service providers. With more than 40 global offices, including 11 on the Chinese mainland, the HKTDC promotes Hong Kong as a platform for doing business with China and throughout Asia. The HKTDC also organises trade fairs and business missions to connect companies with opportunities in Hong Kong and on the mainland, while providing information via trade publications, research reports and online.
For more information on the event, please visit: http://info.hktdc.com/dm/CP849794/index_la_en.htm
Follow HKTDC on Twitter @HKTDC
About OnGreen
OnGreen is the world's largest cleantech social marketplace. Members from across the globe work together, connecting the best ideas in cleantech to funding and expertise, translating IP into ROI. With thousands of entrepreneurs, investors, and business and technology experts spanning 35 countries, it's never been easier to connect with the people and resources needed to turn today's energy and environmental challenges into business opportunities. OnGreen is headquartered in Los Angeles. Connect with the world's leading cleantech investors at http://www.ongreen.com.
Contacts:
Chathri Munasinghe
(800) 297-0445 x 207
Twitter: @OnGreenInc
Facebook: OnGreen.Inc
###