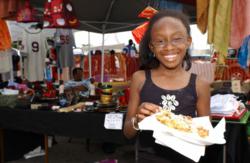 (PRWEB) May 02, 2011
This June 24-26, join the Peninsula Association for Sickle Cell Anemia (PASCA) and the City of Hampton as they present the 21st annual Afrikan American Festival. The fun takes place at Mill Point Park (100 Eaton Street Hampton, VA 23669) in downtown Hampton and includes live music, arts & crafts, clothing, and ethnic food vendors.
During the weekend, over 60 vendors will be on site selling authentic and original black art, artifacts, handmade crafts, and more. For hungry patrons, local and regional food vendors will be selling a variety of cuisines; however alcohol will not be sold at this event.
Live music will entertain throughout the weekend, with feature artist K'bana Blaq performing on Friday, June 24. Brick, best known for their songs Ain't gonna hurt nobody and Dazz (which hit # 3 on the U.S. Pop Chart) will take the Mill Point Park Stage at 9:00 pm on Saturday, June 25. On Sunday, June 26, enjoy music by gospel artists Leslie Dupree and CMO Musiq, as well as a spoken word presentation by 13 Nazareth.
Admission charge to the Afrikan American Festival is a $4.00 donation. As in previous years, proceeds gathered from the Afrikan American Festival will help support the Peninsula Association for Sickle Cell Anemia. Hours for this year's event are 4:00 p.m. - 10:00 p.m. on Friday June 24, 11:00 a.m. - 10:00 p.m. on Saturday June 25, and 12:00 p.m. - 5:00 p.m. on Sunday June 26.
Afrikan American Festival Musical Lineup
June 24, 2011
TWO
BLVD
Kelly Nicole
K'bana Blaq (Feature Artist)
June 25, 2011
Beauty for Ashes Dance Theater Company
Conscious Kane
Karla Grase
Rare Occasion Band
Brick (Feature Artist)
SAGE
June 26, 2011
Leslie Dupree
Dana and True Anointing
Valencia Austin
We're Chang'd
Women of Praise and Vision
Absolute
CMO Musiq
13 of Nazareth (Spoken Word)
Sons of Zion
More information on the Afrikan American Festival can be obtained by contacting the Hampton 311 Call Center at 757/727-8311 or the Sickle Cell of the Peninsula office at 757/947-1507. Free parking is available throughout downtown Hampton.
Established in 1972, PASCA provides leadership on a local level to create public awareness of this serious hereditary blood disease that affects mainly people of black ancestry, but has been found to occur in Greeks, Italians, Arabians, Sicilians, and Turks. The Peninsula Association not only distributes educational materials about the disease, but also encourages screening programs and genetic counseling. Sickle Cell Anemia occurs in 1 out of every 400 black births.
Partially bordered by the Hampton Roads harbor and Chesapeake Bay, Hampton, with the 344,000 sq. ft. Hampton Roads Convention Center, is located in the center of the Hampton Roads metropolitan area. Hampton is the site of America's first continuous English-speaking settlement and is home to such visitor attractions as the Virginia Air & Space Center and Riverside IMAX ® Theater, Hampton History Museum, harbor tours and cruises, Hampton University Museum, Fort Monroe, award-winning Hampton Coliseum, The American Theatre, among others.
###