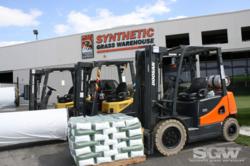 "Our expansion in Mexico will allow us to tap into areas that can truly benefit from the use of a waterless grass product." - CEO, Synthetic Grass Warehouse, Victor Lanfranco
Anaheim, CA (PRWEB) May 03, 2011
The largest national distributor of artificial grass in the United States, Synthetic Grass Warehouse, Inc. recently expanded and opened a division in Ensenada, Mexico on April 9, 2011. The ribbon cutting ceremony marked the official grand opening of the 10,000 square foot warehouse. The warehouse will stock over 500,000 square feet of fake grass, including over 12 artificial turf products. Customers have access to residential landscape turf, commercial landscape turf, pet turf, soccer and sport products, as well as an array of putting greens.
The Mexico-U.S. border region has been hit with severe drought conditions for the past few years. Local residents have struggled to find cost effective solutions to this relentless issue. Synthetic Grass Warehouse plans to assist in Mexico's growing need to reduce water usage. "Our expansion in Mexico will allow us to tap into areas that can truly benefit from the use of a waterless grass product", says Victor Lanfranco, CEO of Synthetic Grass Warehouse USA.
Managed by Dr. Jorge Saenz, Synthetic Grass Warehouse is focused on quick and easy distribution for the growing artificial grass industry. Synthetic Grass Warehouse-Mexico plans on creating an online presence through a new website launch in the near future. Those interested in learning more about Synthetic Grass Warehouse can visit: http://www.syntheticgrasswarehouse.com.
About Synthetic Grass Warehouse, Inc. U.S.A.:
Synthetic Grass Warehouse is the exclusive national distributor for TigerTurf brand synthetic grass products. Founded in 2003, Synthetic Grass Warehouse offers a wide selection of landscape turf, pet turf, putting greens, weed suppressors, nails, staples, and artificial turf installation equipment. In addition to providing high quality products and competitive prices, Synthetic Grass Warehouse offers same-day shipping on all orders.
# # #