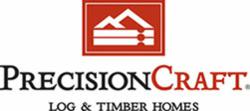 (PRWEB) May 04, 2011
In an ongoing effort to offer the highest level of client service, PrecisionCraft is proud to announce the addition of interior design as part of its existing Total Home Solution®.
PrecisionCraft's exclusive Total Home Solution® includes the design, manufacturing and construction of award-winning log and timber homes. Mountain Architects, PrecisionCraft's in-house design firm, will now provide both the architectural and interior design of their custom homes.
Celeste Raygosa, design manager for Mountain Architects, said that design continuity will serve their clients well.
"When a client works with the same design team to create both the home's architectural concept and interior design, the client's home will have a more cohesive look and feel," she said. "The entire design process is a seamless transition from exterior to interior."
The look and feel will be determined in part by the materials used within the space, such as stone, flooring and cabinetry. To showcase these options, a new design center is currently under construction at the Meridian, Idaho headquarters. The center will feature multiple living spaces, which will include finishes supplied by select vendors.
"When we design a space we either specify products from one of our select vendors or we work with the finishes our clients choose" Raygosa explains. "However, if a client commits to purchase the finishes supplied by our vendors they are eligible for exclusive discounts."
Discounts are enticing to builders in today's market, but according to James Young, President of PrecisionCraft, their entire approach to interior design represents a level of service that clients have come to expect.
"When we first envisioned the idea of a Total Home Solution®, we wanted to offer our clients a complete home-building experience" Young said. "The addition of interior design is a real benefit to those clients who are looking for a professional architect who can bring each aspect of their home to life."
More about Mountain Architects' new interior design service and PrecisionCraft's Total Home Solution® can be found at http://www.precisioncraft.com.
###