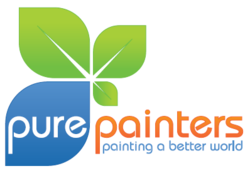 Pure Painters: Painting a Better World
Vancouver, BC (PRWEB) May 27, 2011
Pure Painters and Corpcom Marketing Firm recently went through a business dispute in the summer of 2010. The dispute erupted due to a miscommunication between Pure Painters and sales level representatives in Corpcom. However, when upper level management of Corpcom heard about the issue, they quickly got involved to fix the problem.
Pure Painters and Corpcom resolved the dispute are now once again working together. Because of this dispute they have realized the negative affects customer service can cause to a company and have made this their number one priority in present and future business dealings and actions.
Pure Painters are Vancouver's first and finest environmentally conscious Painting Company. They are a collection of Vancouver's finest, most experienced painters provide painting service that is unparalleled in Greater Vancouver and the entire Lower Mainland areas. They are experienced experts in Residential, Commercial, Interior & Exterior painting. They have worked with Vancouver's finest home builders and businesses to produce top quality finishes.
Pure Painters is renowned due to their "Do it right the first time" policies. If one chooses Pure Painters as their painting service provider, they will find them presentable, professional, prompt, and practically perfect. Their high working standards create an image of Pure Painters that is talked about in the Lower Mainland. Pure Painters is proud to show their appreciation by pledging 3% of everything they make towards bettering local communities. The community section of their website further explains what they are doing in the communities to "Paint a better world."
CORPCOM is a marketing firm specializing in the production of Real Estate Presentation Folders, other printed product and web sites that are customized for Real Estate offices. They have proudly provided hundreds of Real Estate offices across North America with their own customized, laminated, legal & letter size Presentation Folders and web sites.
In 2009 Corpcom began offering web sites to its Vendors as part of their Marketing strategy under the brand name- homemove.biz. To date Corpcom hosts over 14,000 web sites under the homemove.biz brand.
With thousands of happy realtors, Corpcom are the trusted professional printer and web site developers serving the real estate industry throughout North America.
Their skilled graphics department will customize any product to include logos, full color photo, or any other corporate information that the customer wishes to include. All of their work is done in-house; the quality of the final product makes them a leader.
Pure Painters and Corpcom look forward to the future business deals they are to make. As well as the creative and innovative ways the two companies will put their minds together to create unbeatable customer service.
It is how a company deals with disputes that determines future business and Brayton says he would be happy to deal with Corpcom again in the future and feels confident in referring Corpcom services to other businesses now that the issues have been settled.
###