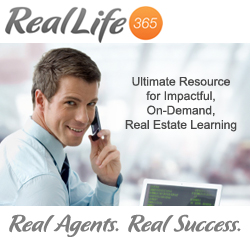 Agents and brokers kept telling us that they wanted education that was proven in the field, no theory, no fluff...Real Life 365 brings this...
Fargo, ND (PRWEB) May 03, 2011
The CE Shop proudly introduces Real Life 365, the real estate industry's ultimate resource for high-impact, on-demand learning presented by top producing agents and leading instructors.
In a recently released survey by the National Association of REALTORS® and REALTOR® University, the top reasons that REALTORS® seek education/training are to:

Increase their marketability, proficiency and productivity
Build skills to provide specialized expertise
Gain general knowledge
AND

Receive continuing education credit
"Agents and brokers kept telling us that they wanted education that was proven in the field, no theory, no fluff. They wanted to know what other agents were doing to achieve top producing results. Real Life 365 brings this and more in an easy to use, on-demand video based format." – Michael McAllister, Real Life 365.
Real Life 365 joins in the success of The CE Shop, who provides real estate continuing education courses online to licensed real estate professionals throughout the nation.
Videos and downloadable content on a variety of specialized topics are available to registered
Real Producer members of http://www.reallife365.com. Content areas include Listing Agents, Buyer Agents, Optimize Your Business and Social Media. All registered members will also have access to free continuing education courses from The CE Shop.
Featured articles include "How To" libraries with quick, in-depth tips as well as full-length and in-depth strategies. Exclusive content can also be found in the REAL Insider and Today's Technology Simplified areas of the website.
The CE Shop is the nation's leading provider of online real estate continuing education. Course offerings vary by state, but include foreclosures, the environmental "green" movement in real estate, the mortgage process and fair housing practices.
About The CE Shop, Inc.:
The CE Shop, Inc. was founded with the mission to serve the licensed real estate professional with high quality, hassle-free and simple online continuing education. Real estate professionals all across the United States have enrolled in the easy-to-use license renewal continuing education courses offered by The CE Shop.
# # #