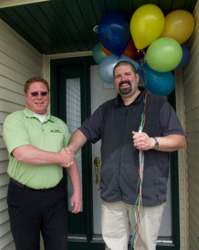 Minneapolis, MN (PRWEB) May 04, 2011
One of the largest, fastest growing, family-owned and operated home remodeling business in the Midwest, Custom Remodelers Inc., is celebrating its 21st year in business by reaching out to the community that has made them such a success.
Jason Bartles of Roberts, WI is the lucky 30,000 customer. Bartles purchased a new asphalt roof that has a 50-year warranty. But rewarding Bartles with a new eco-friendly roof is just one way Custom Remodelers, Inc. is thanking its loyal customers for their success.
In addition, Custom Remodelers Inc. has made a donation, in Bartles name, to the Emergency Food Network, which sources food for more than 65 food banks and hot meal sites, providing nearly 9 million meals annually to over 840,000 low-income residents, ensuring that no one in Hennepin County goes hungry.
A business that believes in the power of community, Custom Remodelers, Inc. has been Minnesota's leading home remodeling company for the last 20 years. Their professionalism and superior customer service have earned them a reputation for reliability and honesty, as well as the respect of their peers and partners in the building industry.
Specializing in energy-efficient home improvements like siding, windows and doors, gutters, roofing and decks, as well as interior remodels from kitchens and bathrooms to basements Custom Remodelers invites you to see the reviews from actual customers for yourself at http://www.customremodelersreviews-mn.com.
###