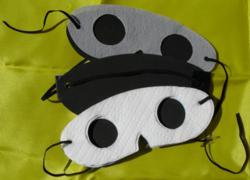 Toms River, NJ (PRWEB) May 04, 2011
Terry Weber of Originals By Weber announces immediate availability of their new low cost MRI safe disposable sleep mask blindfolds (Model # ODSM-4)
The blindfolds are made of lightweight non-toxic black foam with an adjustable elastic strap with reinforced strap holes, one size fits all. The Weber Disposable Blindfold is lightweight, comfortable to wear and low in cost. There is no metal in the mask therefore, it can be worn during operations in hospitals and for patient comfort during MRI or Radiology examinations and as a "room darkening sleep mask" to allow hospital patients to get much better sleep during their stay at the hospital where lights are never turned off.
The Weber Disposable Blindfold Eye Masks are available in three unique models:
(1) A re-usable disposable tissue mask with five tissues included (Model # ODSM-4TL). The benefit of the tissues is they are easily replaced. The Tissue Liners are there to keep the inside of the mask always clean, fresh and sanitary when single or multiple users wear the same mask blindfold repeatedly.
(2) A re-usable disposable washable liner mask (Model # ODSM-4-WL) with one Washable Felt Liner included. This Washable Liner extends the use of the mask by keeping the inside of the mask clean, fresh and sanitary after many uses by one or more wearers. Wash in warm water and air dry.
(3) A plain low cost disposable mask (Model ODSM-4-P) with no liners is designed to be used once and then discarded.
When a mask with either of the two Liners (tissue or washable) is used, a technician can easily replace the five used tissues, or the one soiled washable liner with a new refill pack of Tissue Liners (there are 5 packs each with 5 Tissues to equal total of 25 tissues) or a new refill pack of Washable Liners (10- Washable Liners in each refill pack). These Liners are held in place on the inside of the mask by elastic straps, and are positioned between the back of the mask and the face of the wearer. Both replaceable kinds of Liners are designed to extend the usefulness of the masks when more than one person uses the same mask.
When asked why hospital patients need blindfolds Weber replied: "All hospital patients know when they go to the hospital, they will spend time confined to a bed where they are expected to rest as they recover. But, because most of the hospital hallways and rooms have lights that are almost never turned off, patients have trouble sleeping. But, when they put on one of these comfortable, disposable mask blindfolds to 'darken the room,'" they can get much better rest, their recovery can be much faster, and their time in the hospital shorter and more pleasant."
In addition, doctors and nurses as well as MRI and Radiology technicians find these new Weber Disposable Mask Blindfolds to be just the kind of mask needed for the comfort of patients during a variety of examinations. The low cost and special features of these no-metal, disposable mask blindfolds, with or without the Tissue Liners or Washable Felt Liners are benefits appreciated by both staff and patients at many hospitals across the country.
Specifications: The material is soft, strong black foam about 1/8" thick (2mm thick, PVC, acid and latex free), a 3/16" wide adjustable elastic strap with plastic instead of metal fasteners to keep the mask firmly and comfortably in place. The two elastic strap holes are reinforced (to prevent tearing) with strong binding tape. Mask material is comprised of: carbonate, zinc, ethylene, a cross linking agent, steric acid, and a blowing agent. Also, It is non-toxic and has passed tests for use by children and adults. All Weber Disposable Masks are made in USA.
Weber Disposable Mask Blindfolds Model #ODSM-4 TL with Tissue Liners, are priced at $2.95 each. (Plus s/h) Model #ODSM-4-WL masks with Washable Liners are priced at $2.95 each (Plus s/h). Plain masks-#ODSM-4-P with no Liners are priced at $2.85 each. (Plus s/h).When ordering: 50,100, 1,000 or more masks, quantity discounts can be requested.
To place an order or to get more information you can write to: Originals By Weber, 338 Alabama Avenue, Toms River, NJ 08753. Or call (number is below) Or go to website:http://www.yrret.stirsite.com/page/page/3461664.htm
Toll Free phone: 877-309-8382
# # #