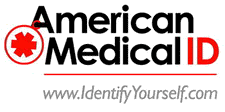 Houston, TX (PRWEB) May 04, 2011
Physicians get the opportunity to practice what they preach. American Medical ID is giving attendees of the Heart Rhythm 2011 Conference, May 4-7 in San Francisco, CA, a free custom engraved medical ID to wear and use as a teaching tool for their patients. Medical IDs can be a potentially life saving device for millions of Americans with heart conditions and physicians encouraging heart patients to wear a medical ID can be much more effective when the patients can see an ID in person.
What is a Medical ID?
A medical ID is jewelry that saves lives. Medical conditions, drug and food allergies, prescribed medicines and emergency contacts can be engraved onto the surface of a medical ID to alert medical professionals. In an emergency, when a person might not be able to speak for themselves, a medical ID bracelet or necklace speaks for them.
The Importance of a Medical ID
According to a published study, half of all medical errors occur because of mistakes made upon admission or discharge from the hospital. Wearing a medical ID protects against potentially harmful medical errors. Medical IDs can eliminate trips to the hospital, reduce unnecessary hospital admissions and prevent minor emergencies from becoming major ones.
Who should wear a medical ID?
Anyone with the following conditions should wear a medical ID:

Diabetes
Allergies: Drug/Food/Insect
Heart Disease
Multiple Medicines
Blood Thinners
An engraved medical ID bracelet or necklace presents a concise overview of conditions, allergies and medicines to alert a doctor or medic before starting treatment.
Get the Word Out about Medical IDs
Everyone can get the word out about the importance of wearing a medical ID bracelet – teachers, doctors, nurses, parents! Medical ID bracelets come in all sizes and colors, and can also be worn as necklaces. Visit American Medical ID for more information.
About American Medical ID
Since 1994, Houston-based, employee owned and operated, American Medical ID has created high quality, customized medical identification jewelry to meet one's everyday lifestyle. The medical IDs are available with various styles of bracelets, necklaces, and sports bands, in gold, gold-filled, sterling silver, stainless steel, titanium and nylon. Each ID is custom fitted and personalized with complimentary engraving. Candidates for a medical ID include anyone living with chronic or rare medical conditions such as diabetes, asthma, heart conditions, stroke risk or memory impairment; persons with allergies such as food, drug or insect; and those taking multiple medications or blood thinners. For more information about American Medical ID, visit http://www.IdentifyYourself.com, email info(at)americanmedicalid(dot)com or call 713.695.0284.
###