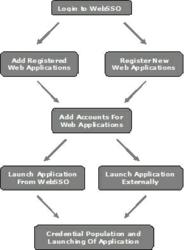 "WebSSO is a cutting edge Single Sign On solution with built-in keystroke encryption features for superior security while accessing various web applications. - said N.D. Reddy, founder and CEO of SutiSoft Inc."
Los Altos, CA (PRWEB) May 03, 2011
SutiSoft Inc., a trusted provider of hosted and enterprise security solutions today announced the release of its Web Single Sign On solution which makes the login process to web applications easier. The SaaS solution allows users to leverage the functionality of SSO from anywhere across the web.
WebSSO reduces the burden of remembering different username and password combinations, time spent on re-entering passwords for the same identity, and time delays caused by resetting passwords. The details of the users and their registered web applications are encrypted using a proprietary and complex algorithm.
Single Secure Login
Define User Groups and Policies
Highlights All Possible Authentication Fields
Organize Applications By Categories
Supports up to 9 Accounts per Application
Automatically Populates Credentials
Provides Add-Ons for Web Browsers
Platform and Browser Independent
How it Works:
Step 1: Login to WebSSO
Step 2: Register Applications to your Account
Step 3: Launch Application [from Web SSO / Externally]
Applications registered with WebSSO can be launched from within WebSSO or from outside of the solution using bookmarks or typing the URL in the browser. When launched, user credentials are populated into the application login page and the submit action is triggered. Once logged in, the user experience with the application remains the same.
Pricing starts at $7.99 per user per month without keystroke encryption.
Pricing starts at $12.99 per user per month including keystroke encryption.
Visit http://www.sutisecure.com for more info.
About SutiSoft Inc:
SutiSoft Inc. is a privately held company founded by N.D. Reddy, a successful Entrepreneur with over 30 years of experience in both the Hardware and Software industry as a Founder, and CEO. The Company's leading edge enterprise/SaaS application software products range from business productivity solutions such as Electronic Signature, Expense Management, Document Control Systems, Governance, Risk and Compliance, Security Solutions and others. The company's products are developed using Java, Flex, AJAX, C++, and other cutting-edge technologies which allow SutiSoft to retain its core values which are Simple, Scalable, Secured, and Seamless. Headquartered in Los Altos, California USA, SutiSoft has offices in Northern California, India, Japan and Europe.
###