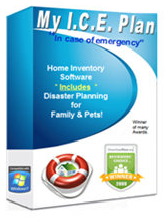 My ICE Plan is an impressive home inventory software package that you're sure to love. From its unique emergency planning features to the multiple ways to view your data, it stands as one of the best home inventory software packages around.
Agua Dulce, CA (PRWEB) May 04, 2011
Trier Software Inc. announces the free use of My I.C.E. Plan "in case of emergency" Home Inventory and Emergency Planning software that can help create a plan . More information can be obtained by visiting My I.C.E. Plan web site.
No purchase is necessary to use the emergency planning sections of the software.
All insurance companies and government agencies recommend a disaster plan for family and pets. Creating an emergency plan can be a daunting task. My I.C.E. Plan software makes the task much easier to complete.
Each year disaster strikes destroying our homes and sometimes causing death. The worst part is trying to deal with the disaster during, and in particular, after the disaster. Having a documented emergency plan helps family members during the crisis and makes the recovery process go smoother and quicker.
Dealing with insurance companies, IRS casualty loss deductions, and other re-reimbursement agencies is much simpler if there is a documented list of everything owned.
My I.C.E. Plan software can help with this task. It is the best and most comprehensive home inventory software on the market today and includes emergency planning for family and pets.
It's easy to use and has dozens of built in 'one click' reports.
My I.C.E. Plan Emergency Sections can easily help you:

Create an Emergency Plan A and Plan B for family and pets
Create Emergency Kits. Easily maintain its contents
Print wallet cards with meeting places and medical information.
Create Letter of Instructions (upon a death) for every family member (includes financial tracking)
Make pre-arrangements for all facets of a funeral
Create a "call list" of people to contact in case of emergency
One button can print everything is the system
There is no time limit to evaluate the home inventory section of the software but it does have a 20 record limit. The home inventory section can quickly produce loss reports for insurance claims. The software also allows archiving items you no longer own for historical purposes.
###