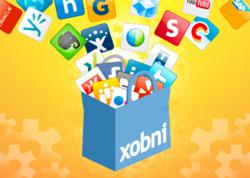 It's great to see leading companies like Xobni bring open standards deeper into the enterprise and strengthen the open app ecosystem...
(PRWEB) May 03, 2011
Xobni, the relationship management service that helps people search and manage all their contacts and communication, today announced the new Xobni Gadget Platform and Store. The Gadget Store gives users direct access to leading productivity products, services and applications in Xobni for Outlook. Xobni for Outlook is the first desktop-based OpenSocial container, and it allows developers to integrate their services seamlessly into the email workflow.
For Users
Gadgets are now included as part of the Xobni sidebar, a leading Microsoft Outlook plugin with nearly seven million downloads. The Xobni Gadget Store includes free and paid gadgets ($9.99/year and 30 day free trial) and lets users choose from nearly 20 services and applications, including web-based document sharing, lead tracking, issue reporting and monitoring, note-taking, and more – all without leaving the inbox.
"For years, Xobni has given users access to Facebook, LinkedIn and Twitter information for their contacts right in their inbox. Thanks to our partners and open standards, we're now able to offer many more services that help users save time and effort," said Jeff Bonforte, Xobni CEO. "This platform also gives developers an easy way to reach hundreds of millions of Outlook users, while using the same code for Gmail."
The Xobni Gadget Store includes apps and products from a wide range of industry-leading partners:

Productivity Gadgets: Dropbox, Evernote, GoldMail, Google Translate, Atlassian JIRA, WebEx
Collaboration Gadgets: Huddle, Microsoft SharePoint, Salesforce Chatter, Yammer
Content Gadgets: Facebook, Flickr, Hoover's, Klout, LinkedIn, Twitter, Xing, YouTube, Yelp
CRM Gadgets: Salesforce CRM
"The new Evernote gadget for Xobni eliminates one of the most difficult aspects of modern communication—remembering relevant notes, thoughts and details about individuals," said Seth Hitchings, Evernote's VP of Platform Strategy. "By adding Evernote to Xobni, users will now have access to both publicly available data and their own personal thoughts about the individuals they interact with, right from the inbox. We're excited to have Xobni join our partner community and to offer our users another convenient and innovative solution to note taking."
For Enterprises
In addition to helping end users, the Xobni Gadget Platform lets enterprises create private gadgets to make better use of existing software and services, making their employees more productive and effective.
"It's great to see leading companies like Xobni bring open standards deeper into the enterprise and strengthen the open app ecosystem," said Mark Weitzel, President of OpenSocial. "Using Xobni's OpenSocial-based gadget platform, enterprises, developers and entrepreneurs can do something that wasn't available to them before - quickly and easily create engaging social applications for Outlook that are based on open, standard APIs and built with common Internet technologies like HTML and Javascript."
Xobni Business Solutions customers can deploy their own customized enterprise gadgets via the Xobni Enterprise Admin Portal.
Developers and enterprises interested in learning about the Xobni Gadget Platform or Xobni Business Solutions can visit http://www.xobni.com/developer/. Additionally, Xobni is hosting an event at their offices in SOMA on May 9th from 2:00 – 6:00 for any developers interested in hacking and exploring how to work their product or service into Outlook. Guest judges of the hack include Michael Arrington/TechCrunch, Joseph Smarr/Google and David Lee/SV Angel. Space is limited. RSVP here.
About Xobni
Xobni ("inbox" spelled backwards) is a San Francisco-based relationship management service that enhances productivity in the workplace. The Xobni service creates robust profiles by combining individual email/phone/text exchanges with social media content (Facebook, LinkedIn, Twitter, etc.) and third-party gadgets to give users a complete 360-degree view of all their contacts and personal networks. These profiles are connected and made available across various devices and platforms, including Outlook, Gmail, BlackBerry, and soon Android and iPhone. Xobni offers a free product suite across all platforms, and has been downloaded over 6 million times. Xobni's new full-featured premium product -- Xobni Pro -- connects these profiles in the cloud across Outlook, webmail and mobile platforms to provide a seamless and comprehensive contact management solution. Xobni is funded by Khosla Ventures, RRE Ventures, Cisco Systems, BlackBerry Partners Fund, First Round Capital and others. For more information, visit xobni.com (for English) or xobni.de (for German) or xobni.com/fr (for French).
MEDIA CONTACTS
Terra Carmichael
terra(at)xobni(dot)com
415.684.7681
# # #