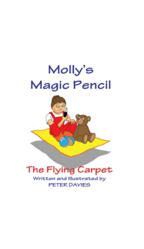 "I love reading and telling stories through pictures; to me the pictures say more than the words," said Davies. "I wanted to create a picture book that was fun for the person reading the book to the child as well as the child looking at the pictures."
Vancouver, British Columbia (PRWEB) May 04, 2011
When a young girl selflessly helps a homeless elderly woman and her dog by offering her the money from her piggy bank, she is rewarded with a pencil. But, as young Molly would soon find out, this is not any ordinary pencil.
In the new children's tale, Molly's Magic Pencil: The Flying Carpet (published by AuthorHouse), readers are introduced to Molly as she uses her new-found power to help her grandfather recover his stolen motorcycle from a couple of hooligans looking to go on a joy ride. The Flying Carpet is the first in the Molly's Magic Pencil series, created by Peter Davies, who writes as "Pete the Pen".
"I love reading and telling stories through pictures; to me the pictures say more than the words," said Davies. "I wanted to create a picture book that was fun for the person reading the book to the child as well as the child looking at the pictures."
An expert illustrator, Davies' art has been used in many forms of visual communication, many of which can be seen at his Web site http://www.petethepen.com/. He feels that any message can be conveyed through a picture or drawing. The origin of Molly's Magic Pencil came as a series of doodles, but also has a personal connection to Davies, because when his son was younger, he enjoyed telling him stories and creating characters that he would later illustrate for him. Now, Davies uses that same principle to create Molly's Magic Pencil: The Flying Carpet for the entertainment and inspiration of children everywhere.
About the Author
Peter Davies is an illustrator, cartoonist and designer from the UK who has enjoyed a successful career creating images for the many diverse aspects of visual communication. Now living in Canada, Peter is using his artistic skills to write and illustrate his own stories that can be enjoyed by children of all ages.
###