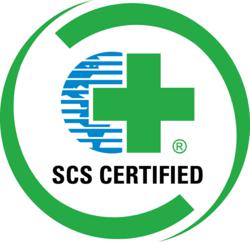 Emeryville, CA (PRWEB) May 04, 2011
Justmeans is excited to announce the participation of Scientific Certification Systems at the Certification Consumption and Change Conference on May 24 in Washington D.C., that will bring together thought leaders from social enterprises, leading brands, and certifying bodies to discuss and plan the future of ethical certification.
Dr. Stanley Rhodes is the President and CEO of Scientific Certification Systems. He has spearheaded the development of each of SCS's major certification and evaluation programs in the fields of food safety and environmental claims. During the 1980s, Dr. Rhodes was the driving force behind the NutriClean food testing program. Recently, Dr. Rhodes has taken a central role in the international effort to advance the science of life-cycle assessment. He served as a U.S. expert delegate to the ISO TC-207 (International Standards Organization Technical Committee on Environmental Management Tools), serving on the Subcommittees on Life-Cycle Assessment and Environmental Labeling. He earned his Ph.D. in Organic Chemistry from Purdue University.
Scientific Certification Systems(SCS) has been providing global leadership in third-party sustainability and environmental certification, auditing, testing and standards development for more than 25 years. SCS programs span a wide range of industries including green building, product manufacturing, food and agriculture, forestry, retailing and more.
Attendees of the Certification Consumption and Change Conference will hear Dr. Rhodes in conversation with Dr. Elizabeth Kennedy, Director of Evaluation & Research for the Rainforest Alliance and Leonardo Bonanni, Founder and CEO of Sourcemap. The format of the conference allows attendees an extended period to question the panelists following a moderated discussion.
The Certification Consumption and Change Conference will take place May 24th at the National Press Club in Washington, D.C. The conference will bring together 150 representatives from top brands that source certified ingredients and eco-label their products, leading ethical certifiers, government agencies and NGOs, and the service providers that make reporting and compliance possible. Conference attendees will enjoy a full day of panel discussions that will shape the future of ethical certifications.
To find out more or register to attend this conference, go to: http://bit.ly/i0RJ6W
Justmeans is the world's leading source of information and connections for people doing business better. With over 2 million unique visitors, a growing community of over 250,000 registered users, and distribution to millions – Justmeans is the leading marketing and communications platform for sustainable businesses. The Justmeans News Distribution services is helping companies around the world leverage the widest and most cost effective method promoting their news through Justmeans.com, affiliate websites, approved aggregators, focused social media networks, and green e-newsletter subscribers.
###