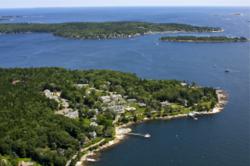 "Maine greets its visitors with the slogan, 'Maine: the way life should be. At Spruce Point Inn, the classic, Down East summer vacation tradition we've celebrated here for more than 100 years, is the way life is," said innkeeper Angelo DiGiulian.
Boothbay Harbor, ME (PRWEB) May 03, 2011
The Inn's location – Boothbay Harbor on the Mid-coast of Maine -- is studded with diversionary pleasures guests (especially families) have not experienced before, from lobster boat races and butterfly gardens to riding an authentic steam train or watching an artist at work in her studio. Still, in one afternoon on Spruce Point's own 57 acre property, a family of four will find the makings of memories: exploring tidal pools, joining a yoga class, swimming laps in the fresh- or saltwater pool, or napping in a strategically placed hammock where pine boughs and waves weave a lullaby. These many experiences, from spa services to nearby golf, sailing to shopping, make for great story-telling around the fire pit each evening or over cocktails at sunset in view of the sea.
"Oceanside memories made in Maine" are why so many visitors to Spruce Point Inn become lifelong repeat guests. Spruce Point's classic Maine summer vacation experience welcomes first-time guests with the same warmth as third generations returning to "their" cottage on the waterfront.
Accommodations at Spruce Point Inn include guestrooms and suites in the historic Main Inn, ocean and woodland view lodges, townhomes (with adjoining rooms that open more expansive living space to two couples or families vacationing together) and five classic cottages with one to three bedrooms plus kitchens and fireplaced living rooms. Rates range from $161-370 per night per room, and $325-600 per night for the cottages.
Dining on-site includes the Inn's main dining room, 88, for coastal Maine cuisine; Bogie's casual bistro, and Deck, the oceanside café opening for the first time this June. Chef Peter Stiles' mastery of locally-sourced items fished, farmed and gathered from authentic Maine sources gives his menus the taste of Maine that makes the Inn popular with local residents as well as guests. For alternatives, one need look no further than the restaurants of Boothbay, a quick shuttle or motor launch ride away.
"Maine greets its visitors with the slogan, 'Maine: the way life should be,'" said innkeeper Angelo DiGiulian. "At Spruce Point Inn, the classic, Down East summer vacation tradition we've celebrated here for more than 100 years, is the way life is."
About Spruce Point Inn
In operation for more than 100 years, Spruce Point Inn is a distinctive and historic vacation destination for travelers from all over the United States. Its relaxing facilities have long been a part of the summer community and a backdrop for delightful "oceanside memories made in Maine." Located in the seafaring village of Boothbay Harbor, Maine (an hour north of Portland) and situated on 57 acres of stunning oceanfront and sheltering pine forest, the Inn is a retreat of 56 modern rooms in eight lodges, 5 classic cottages, 9 Main Inn rooms and suites, and 4 townhouses. The convenient location, peaceful setting and spectacular coastal views have made the Inn a premier resort for families, reunions, weddings and business events. For reservations, call 800-553-0289
###