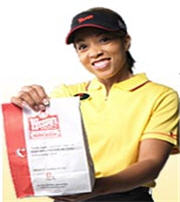 I would recommend this service to all who want to save time, money and have a higher quality of staff" - Anne Williams, Wendy's Restaurant Owner
Conklin, NY (PRWEB) May 16, 2011
WyckWyre.com, the web-based recruiting solution developed specifically for the restaurant and hospitality industry based in Conklin, NY, has recently joined forces with several Wendy's franchisees to help them recruit better Team Members and save time in the process.
Over 73% of Wendy's managers said that the process, including a fully customizable Virtual Interview process for each applicant, saved them time hiring new employees when compared to traditional hiring methods and other web-based systems. "The overall speed at which I was able to review applicants and the reduction in the number of phone calls being received has been dramatically reduced. I feel more in control of the application system, rather than applications and applicants controlling my time," says one Wendy's General Manager.
Anne Williams, owner of 17 Wendy's restaurants said "Having been in the Restaurant business for 30 years, using WyckWyre is truly a time saver. The system is easy for my General Managers to use and easy for them to train. Besides saving a tremendous amount of time on phones calls and reference checks, the quality of the applicants is much higher. I would recommend this service to all who want to save time, money and have a higher quality of staff."
In addition to saving the busy hiring manager's valuable time, over 82% of the Managers who tested the system felt that they were receiving and hiring a better caliber applicant than they were through previous methods. Through the filtering process inherent with the WyckWyre system and the through Virtual Interview process "we received a much higher caliber applicant than we ever have in the past" says another GM…."We expect this to ultimately result in a greater reduction in turnover with our employees than we have seen in the past."
WyckWyre has developed a fully branded solution for Wendy's, including a universal hiring site for all Wendy's franchisees, that will help applicants in their local area find stores that are hiring and open positions within the Wendy's system. The current functionality and new processing features that are being added soon, such as I-9 verification, Work Opportunity Tax Credit Processing, background checks and payroll integration make the system a "No Brainer" according to one Franchisee.
"Our goal is to help Wendy's Franchisees, as well as other concepts, significantly reduce the time and money spent on finding and hiring quality employees. By helping them reduce turnover on an annual basis, we have shown them how the WyckWyre system will actually save them in excess of six figures on an annual basis just in hiring and training costs" says Mike Rogers, Director of Sales for WyckWyre.
The names of actual companies and products mentioned herein may be the trademarks of their respective owners.
For more information, press only:
Mike Rogers, 607.779.1460, mike(at)wyckwyre(dot)com
For more information on WyckWyre.com:
http://www.wyckwyre.com
or watch our 3-minute Epipheo Video at:
http://www.wyckwyre.com/employers
# # #