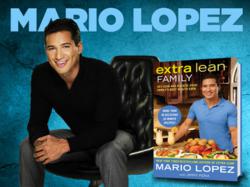 "This is Mario's first appearance on Bodybuilding.com, but it won't be the last. All of it will be geared toward helping you get in the best shape of your life." -Bodybuilding.com Editor-in-Chief, Jeff O'Connell
Boise, ID (PRWEB) May 03, 2011
Mario Lopez, best-selling author of Knockout Fitness, Extra Lean and the newly released Extra Lean Family, and Bodybuilding.com, the Internet's most-visited bodybuilding and fitness site and largest online retailer of nutritional supplements, have teamed up to shrink the ever-expanding waistlines of America's Families. On the tail of Mario's new healthy-family cookbook, Extra Lean Family, Bodybuilding.com is releasing exclusive content showing the workouts and training philosophies Mario uses to achieve his famously fit body.
Juggling a hectic daily schedule as a host on Extra, managing his new hit reality-competition series Randy Jackson Presents America's Best Dance Crew, starring in VH-1's Mario Lopez: Saved by the Baby, spending time with his new baby - Mario has learned to squeeze in effective time-saving workouts that everyone will appreciate. Bodybuilding.com shares his top workout tips along with video of his fat-burning, muscle-building circuit training routine to help you get in and out of the gym, so you can tackle the rest of your day without sacrificing your health and fitness goals.
While Bodybuilding.com provides Mario Lopez's workout and techniques for success, it's Mario's new book Extra Lean Family that shows readers how to maintain their best health by cooking quick and delicious meals. By allowing you to plan ahead with predesigned grocery lists, controlling the quality of your family's meals with twenty-minutes-or-less recipes, and suggesting natural snacks to keep your metabolism fueled, Extra Lean Family will completely transform the way your family eats, allowing everyone to enjoy delicious food, without the guilt - for life.
"This is Mario's first appearance on Bodybuilding.com, but it won't be the last. Over the next year, you'll encounter training content and additional nutrition know-how from this fitness superstar. All of it will be geared toward helping you get in the best shape of your life," shares Bodybuilding.com Editor-in-Chief, Jeff O'Connell.
For exclusive information on Mario Lopez's workouts and Extra Lean Family, please visit http://www.Bodybuilding.com/MarioLopez
Bodybuilding.com offers more than 12,000 health & fitness supplements and accessories to help more than 7.5 million people every month achieve their health, fitness and appearance goals, as well as over 35,000 pages of FREE information, including more than 20,000 articles and videos, expert online trainers and new content added daily.
###