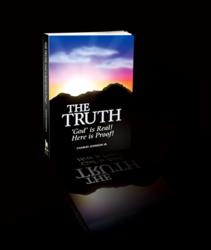 Thus saith Yahweh, he that created the heavens, and stretched them out; he that spread forth the earth, and that which cometh out of it...
Phoenix, AZ (PRWEB) May 03, 2011
"The Truth. God is Real! Here is Proof!", is a book that reveals the truths about the origin of 'God', the impending demise of world we see it today, and how to prepare yourself for the end of the world. The author states, "We are seeing signs of this everywhere as the warnings in the Bible are coming to light. The natural disasters and human conflicts that are taxing the limits of mankind's resources have already been foretold…"
This book is without bias toward any one religion, and it uses science, as well as the Bible, to demonstrate the existence and purpose of 'God'. You must understand the instructions and lessons contained in the Bible and demonstrated by nature to receive Eternal Life. This is why "The Truth. God is Real! Here is Proof!" is a must read. Let's put it this way; if you were trying to pass a test in grade school, is it better to listen to what the teacher taught and study or to not pay attention and remain ignorant?
A section that can't be missed because of its vital information to understanding the afterlife is, "What is it like to physically die?" This chapter has been noted as the most interesting chapter of the book. What makes this chapter so appealing is its explanation of the 'stages' you go through once you die to when you reach the spiritual realm. The chapter emphasizes the importance of knowing and learning of Yahweh and Yahshua the Messiah. To know him is eternal life. Also, this chapter answers the questions of so many, what about suicide or murder? Yahweh wants us to cherish life, our own lives and the lives of others, because he is the one that has given us the precious gift of life. The answer to this question and many about this great phenomenon lie within this chapter and the book referencing written scripture that supports and validates every word of this enlightening book.
ABOUT THE AUTHOR
CHARLES JOHNSON, JR. was born and raised in Detroit, MI. He was a sick child, facing the threat of death at any time. In spite of the adversities that he faced, he seemed to always take on roles as a leader throughout his life. 'God' blessed him with a spiritual insight that allowed him to have a sense of what was going on in the minds of others and he used it for service to others.
He has seen his young son permanently crippled by severe brain damage. He has faced the death of his baby daughter who, at twelve years old, was hit and killed by a drunk driver as she crossed a street coming home from her friend's house. He has been ravaged by diseases that have resulted in the amputation of both of his legs, and other complications.
Yet, he continues to remember the blessings that he has in his life. He has been married to his beautiful, inspiring wife since he was in college at Michigan State University, from where he received his BA degree. They now have six wonderful grandchildren.
In spite of all the troubles that they have encountered, they have endured and they remain powerfully faithful and continue to teach the 'good news of the kingdom'. (Learn more)
"The Truth. 'God is Real! Here is Proof!" is the book to help everyone face the challenges that are to come upon all of mankind from the author who has the insight and perspective to make those things clear, interesting and revealing.
The launch of his new site called TheTruththeBook.com, enables book buyers to easily acquire this limited edition book. Only 5,000 copies are currently available before a new version is released late summer 2011.
Doctor Arlene Harris says, "This book offers the clearest explanations of the existence of our creator that I have ever read before. It uses science, the Bible, and our everyday experiences to verify what most people have taken on blind faith. Another, Sion Borg, states, "This book is clear, simple and understandable. Though it talks about things like anatomy and physiology, yet it is kept simple. I like this book, and I am sure that everyone that read it will like it too."
The premise of the book, "The Truth. God is Real! Here is Proof!" came from the vision and revelation given to Henry C. Kinley from Yahweh, the creator of the heavens and earth; and the determination and grit that it took to write and compile this book came from Yahshua, the Holy Spirit, and a sincere desire to see everyone have a fundamental knowledge of their creator and savior.
Featured chapters of the book will enlighten your reality of 'God' and the very presence of a supreme being. "A Vision of the Truth, and the True Names", Man Made in the Image and Likeness of God", "Science and the Bible", "What is the Holy Spirit?", "Money, Money, Money, Money", and "What is it Like to Physically Die?", are must read chapters in the book.
The author states, "Throughout the ages and at the end of every era, God has given mankind a vision of His eternal plan. But Satan has tried to ruin it with lies and deception. He has made 'religion' a bad word with all its conflicting approaches to the knowledge of 'God'. He has turned science into a study of misapplied principles that leads us away from understanding why our universe was created. We no longer know the truth about 'God', though some of us are under the convincing delusion that we do. Some of us no longer even care whether we know 'God' or not, and some of us have become persuaded that there is no such thing."
The message is so clear and the imminent end is so near, those who purchase this book, whether it is for your friend, family, or themselves will serve as a bridge to help prepare them for what is to come.
"But the hour comes, and now is, when the true worshippers shall worship the Father in spirit and in truth."
###