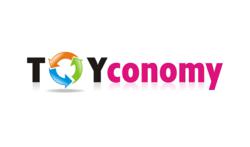 "This award is a reflection of our valued customers and parents. We appreciate their support and enthusiasm."
Glen Allen, VA (PRWEB) May 03, 2011
From among contestants across the United States, TOYconomy has been ranked #75 (out of 200) in StartupNation.com's 2011 Leading Moms in Business competition (http://www.startupnation.com/leading-moms-in-business).
Millions of votes have been cast in the annual competition, and this year's flurry of popular support of the 2011 contestants was no exception. America has once again demonstrated its immense interest and supportiveness for moms building businesses as they also tend to their families.
"With startup rates at an all-time high, these leading moms are leading the pack in startup rates," says Rich Sloan, chief startupologist and co-founder of StartupNation. "They're going after their business opportunities and developing their innovative products and services with fervor," Sloan adds.
"This award is a reflection of our valued customers and parents. We appreciate their support and enthusiasm," said Shannon McAfee, founder of TOYconomy. The winner's profile for TOYconomy can be found at http://www.startupnation.com/leading-moms-in-business/contestant/10144/index.php.
The 2011 Leading Moms in Business ranking highlights some of the dominant trends, motivations and attributes among moms in business. They include:

A great eye for providing attractive discounts, coupons, savings and value, all especially important to consumer moms of the recession era.
A likelihood to come up with innovative products and solutions to address the challenging maze of motherhood. It's an environment that demands resourcefulness.
Conscience-driven business, where "doing well" is just fine, but the real rush comes from doing good.
The attraction of being your own boss looms large for moms wanting to take control they just can't find in a day job.
Sustainable solutions and responsible business practices are increasingly paramount.
Making the most of social media for business benefit is seemingly a birthright for the socially adept moms.
The full results of the 2011 Leading Moms in Business ranking are available on StartupNation's website at http://www.startupnation.com/leading-moms-in-business/.
About StartupNation
StartupNation (http://www.startupnation.com) provides over 200,000 pages of business advice and networking for entrepreneurs and serves millions of entrepreneurs annually. StartupNation is a free service founded by entrepreneurs for entrepreneurs with the intention of providing a one-stop shop for entrepreneurial success, including blogs from a host of experts, podcasts, webcasts, eBooks such as Start Your Own Mom Business (http://www.startupnation.com/mom-business), award-winning step-by-step advice, and more.
StartupNation co-founders, Rich Sloan and Jeff Sloan, are two of the country's leading small business experts. The Sloan brothers speak frequently at entrepreneurial forums and recently hosted a Public Television special helping people transform their passions into business opportunities. They are authors of StartupNation: Open for Business, published by Doubleday. The Sloan brothers are regularly quoted and featured in media such as The New York Times, Wall Street Journal, Fortune Small Business, Entrepreneur Magazine, CNN, CNBC, MSNBC, FOX News and many others.
About TOYconomy
TOYconomy is an online toy rental and exchange program that can help you significantly decrease toy clutter and help you save money and resources by being more selective about the toys you choose. Founded and established in 2010 by a mother of three in Richmond, VA, TOYconomy's mission is to help you keep your kids happy and healthy without having to burn big bucks.
TOYconomy is available at http://www.TOYconomy.com/.
For more information, press only:
For StartupNation, contact Rich Sloan via email at rich at StartupNation dot com or by phone at 248-430-1002.
For TOYconomy.com contact Shannon McAfee at info at TOYconomy dot com or by phone at 804-364-TOYS (8697).
###