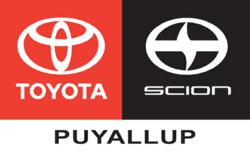 "Thank you for your exceptional dedication to continuous improvement and to the Toyota brand," states Jim Lentz, President and Chief Operating Officer for Toyota Motor Sales, USA
Puyallup, WA (PRWEB) May 04, 2011
For the 25th consecutive year, Toyota of Puyallup has earned the prestigious Toyota President's Award for customer satisfaction. The dealership is the most awarded Toyota dealership in the state of Washington, and is one of only five Toyota dealers in the nation (out of over 1,200 Toyota dealers) to have won this award every year since the award's inception in 1985.
Every year, Toyota Motor Sales, USA honors their outstanding dealerships with the prestigious President's Award. It is the highest honor that can be achieved by a Toyota dealership. In order to qualify as a President's Award winner, Toyota dealerships must excel in a number of different categories, including Sales Satisfaction, Service Satisfaction, Market Share Attainment, Vehicle Delivery Excellence and Employee Training & Certification. Dealerships must meet or exceed the standard in all areas of dealership performance in order to qualify for this award.
"Last year, you and your team rose to meet the challenges we faced – and your dealership thrived. Your ability to demonstrate operational excellence in all departments and meet the high standards of the President's Award demonstrates your commitment to quality and serves as a model for all Toyota dealerships. Thank you for your exceptional dedication to continuous improvement and to the Toyota brand," states Jim Lentz, President and Chief Operating Officer for Toyota Motor Sales, USA.
Toyota of Puyallup has been in operation since April of 1970. This month marks their 41st year in business. They employ 110 people and will sell in excess of 2,500 new and pre-owned vehicles in 2011.
Toyota of Puyallup is located at 1400 River Road, Puyallup, WA 98371. Phone: 253-286-6000 or http://www.toyotaofpuyallup.com.
# # #