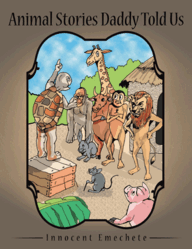 Victorville, CA (PRWEB) May 04, 2011
Throughout Africa's history, communities participated in the tradition of storytelling, while few stories were actually written. A product of African oral literature, Animal Stories Daddy Told Us (published by AuthorHouse), by Innocent Emechete, contains several colorful and engaging animal stories that carry important underlying messages for children.
According to Emechete, memorization was an instrument utilized not only among local communities, but by all Africans for centuries. Local chiefs and kings would utilize message-runners, who orally carried messages from one chief to another. Traders would memorize the price of merchandise, and remember the amount of money owed to them by customers. Spoken word was so respected throughout African history that oral agreements, such as renting land to farm, were honored as a binding.
"Oral literature played a big role in everyday life, with local songs, proverbs, riddles and idioms being carried through generations orally," says Emechete. "In these oral traditions, African children were given a sense of character, discipline, and integrity."
Animal Stories Daddy Told Us describes day-to-day activities in various African animal kingdoms. The 16-chapter collection shows children real-life experiences through trusted animal characters. In the story of "Mr. Mosquito and Ms. Ear," Ms. Ear's error in judgment is highlighted when she refuses to marry Mr. Mosquito based solely on his outward appearance. Political engineering and rancor are part of the electoral process in "Mazi Mbe Cuts the King's Hair." Mr. Pig's political victory backfires after he tries to punish Mbe for openly campaigning against him.
"The book covers a whole spectrum of betrayal and deceit, and shows the face of evil, pride, arrogance and ungratefulness," says Emechete. "But it also brings about fun and restoration of peace, love, tolerance, mercy and justice."
About the Author
Innocent Emechete has been a state and federal prison Chaplain for over 18 years. He believes that learning basic lessons as children, such as those exhibited in Animal Stories Daddy Told Us, would prevent some of the mistakes that lead to incarceration.
AuthorHouse is the leading provider of self- publishing, marketing, and bookselling services for authors around the globe. For more information, visit http://www.authorhouse.com.
###