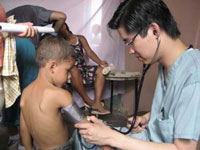 Just Neighbors will help our medical students to develop a deep understanding of the impact that poverty has on patients they will serve here in Richmond.
Summit, NJ (PRWEB) May 05, 2011
Virginia Commonwealth University Medical School has adopted the Just Neighbors poverty awareness curriculum, as the service learning component for its first year medical students. Beginning in the fall of 2011, all 200 first year medical students will be exposed to a working understanding of poverty and the physical and emotional toll it takes. Just Neighbors is an interactive, multi-media curriculum that puts a human face on poverty. Asking participants to "walk in someone else's shoes", the program challenges many myths about poverty as it explores systemic causes.
The Liaison Committee on Medical Education determines accreditation standards for U.S. and Canadian medical schools to provide opportunities for service learning. VCU Medical School Director of Curriculum, Lelia Brinegar said, "Just Neighbors provides the structure we need to provide opportunities for our students to reflect on what they are seeing." At VCU, the Just Neighbors sessions will be supplemented with presentations by members of the local community familiar with the problems of poverty in Richmond.
VCU Service Learning Director, Lynn Pelco said, "The Just Neighbors curriculum will help our VCU medical students to develop a deep understanding of the complex nature of poverty and the impact that poverty has had on many of the patients they will serve during their medical education here in Richmond, Virginia. Through the Just Neighbors curriculum and their service-learning experiences, our first-year medical students will have multiple opportunities to reflect on the lives of patients who have experienced poverty and on their own development as empathic and effective physicians."
VCU medical students train at the VCU Medical Center in urban Richmond, VA. The VCU Medical Center is largest single provider of indigent health care in the commonwealth, is the site for the region's only Level 1 Trauma Center and is recognized internationally for care in organ transplantation, head and spinal cord trauma, burn healing and cancer treatment.
"The good news for us at Family Promise is not just that they have chosen Just Neighbors; but that we now have a medical school that understands the critical need to comprehend the pervasive grip of poverty as part of the process of diagnosing and treating patients," said Karen Olson, President of Family Promise and co-creator of Just Neighbors. "The most recent Census numbers show that 38% of the children in the Richmond metro area are living below the poverty level. That is nearly double the rate we see nationwide."
Just Neighbors is a program of Family Promise, a Summit, NJ-based national nonprofit that mobilizes community resources around the nation to provide emergency shelter, meals and wraparound services to homeless families with a goal of helping those families achieve sustainable independence. Family Promise has 163 Affiliates in 41 states, and involves over 135,000 volunteers from 5,000 congregations in its work.
"I don't know what your destiny will be, but the only thing I know; the only ones among you who will really be happy are those who will have sought and found how to serve." -- Albert Schweitzer
# # #