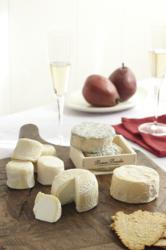 Websterville, VT (PRWEB) May 04, 2011
In recent American foodie history, imported French Brie cheese was considered standard for an elegant cheese board. Yet as food knowledge and palettes have been expanding rapidly in this country, so have appetites for local artisan cheeses. Vermont Butter & Cheese Creamery has been a leader in the phenomenon of European style cheeses being made stateside with a unique American twist since the company's inception in 1984. While fresh goat cheese has always been a focal point, in 2001 co-owners Bob Reese and Allison Hooper introduced aged geotrichum rinded goat cheeses to the market that have grown a large base of passionate followers.
Geotrichum is a mold/yeast that is added to the cheese milk to produce the distinctive "geo" rind. As the cheese ages and ripens, the rind wrinkles and looks like coral. The more wrinkled the rind, the more complex and delicious the cheese. Geotrichum is not a pristine white like "bloomy" rinded cheeses such as brie or camembert and has a more delicate, silky texture.
Cheeses of this variety can be difficult to make. Patience and commitment were requirements while striving for perfection in recipe and technique. Throughout the years, minor adjustments were made and the pinnacle of success came in 2010 at the American Cheese Society annual competition. Bonne Bouche, the signature cheese of VBC's aged cheeses won 1st place in the aged goat cheese category and 2nd place best of show.
Today Vermont Butter & Cheese Creamery is still the leading American creamery producing a unique line of aged goat cheeses with a Geotrichum rind that can be found in some of the finest restaurants and markets in the country from L'espalier in Boston to Le Pain Quotidien. All are hand‐made using fresh goats' milk from small farms. There are four distinct cheeses included in the line: Bonne Bouche, Bijou, Coupole and Double-Cream Cremont. They are reminiscent of the goat cheeses of the Loire Valley in France and offer a nutty taste, soft paste, complex aromas and beautifully wrinkled rinds.
In their twenty-seventh year of business, Vermont Butter and Cheese Creamery is a leading American creamery crafting innovative, all-natural fresh and aged goat cheeses, crème fraiche, mascarpone, and European-style cultured butter. The creamery supports a network of more than 20 goat dairy farms, providing milk that meets the highest standards of purity, and is a proud contributor to the health of local agriculture.
# # #