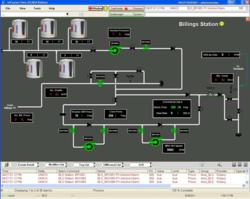 "With these regulations, the DOT has emphatically acknowledged the importance of reliable information systems and attention to human factors in improving pipeline safety," said Mark Grant, SCADA applications specialist for Invensys Operations Management.
Plano, TX (PRWEB) May 04, 2011
Invensys Operations Management, a global provider of technology systems, software solutions and consulting services to the manufacturing and infrastructure operations industries, has made available a new pipeline Control Room Management solution that facilitates compliance with 49 CFR part 195.446 and 49 CFR part 192.631, the new U.S. Department of Transportation (DOT) regulation for companies that operate pipelines carrying hazardous liquids and gases. The unique Invensys offering combines open software and services to integrate SCADA information, workflow, alarm handling, training and other aspects of pipeline operations to help owners develop 49 CFR compliance procedures. The DOT is requiring that pipeline operators define these procedures by August of 2011 and implement them by February of 2013.
The DOT's Pipeline and Hazardous Materials Safety Administration (PHMSA) has issued the 49 CFR 195.446 and 192.631 regulations to protect people and the environment from the risks inherent in the transportation of hazardous materials. PHMSA requires companies to implement and document measures that reduce risk associated with controller fatigue; precisely define roles and responsibilities of control room staff; and provide information, training and processes necessary to help fulfill these responsibilities.
"With these regulations, the DOT has emphatically acknowledged the importance of reliable information systems and attention to human factors in improving pipeline safety," said Mark Grant, SCADA applications specialist for Invensys Operations Management. "Invensys Operations Management is the only automation provider that embeds into a single HMI and engineering platform all the technology necessary to meet the requirements of 49 CFR 195.446 and 192.631. Our advanced products, interfaces, integration capabilities and open technology enable prompt detection and appropriate response to abnormal conditions and emergencies, helping users achieve safety and environmental excellence."
The Invensys 49 CFR compliance offering is available immediately for owners of Wonderware® System Platform software and Foxboro® SCADA systems and, by virtue of its open solution interface, for owners of non-Invensys SCADA systems as well.
The new regulations call for specific improvements in the control room and change management, including compliance with American Petroleum Institute's API 1165 and API 1168 best practices for control room management. They specify improvements in SCADA HMI, pipeline alarm management, business process management (BPM), field operator workflow, pipeline operator training, shift handover, documentation and auditing. The Invensys solution addresses all of these areas through the following components:

Seamless integration and scalability through the company's Wonderware System Platform, which provides plug-in integration for control and enterprise applications.
A common SCADA HMI via the company's industry-leading Wonderware InTouch® software user interface, which enables shared visualization of pipeline operations, including SCADA RTUs, flow meters and leak detection systems.
Rationalized alarm management through embedded SCADA alarm reporting, alarm management software and proven consulting and plan-development services.
Next-generation business process management through the company's ArchestrA® Workflow software, which is embedded into the Wonderware System Platform or available as a standalone product.
Mobile field operator tools, like the company's IntelaTrac® MobileWorkforce solution, which supports everything from leak detection to change management by synchronizing assignments, schedules, rounds and reporting.
Improved operator training through the company's SimSci-Esscor® and Energy Solutions International operator training simulators, which have been integrated with dedicated SCADA consoles.
A common online repository through the Invensys integrated Web Application Framework which enables storage of documentation, field procedures, plans and system backup to facilitate shift handover, lessons learned, controller roles and responsibilities, compliance, system and network management and other operator functions.
"To help us meet increasing demand in the face of the fast-approaching deadline, we will utilize the support, experience and development expertise of our integration partner, Cognizant, as well as the support of others from within our global ecosystem of partners. Together we are uniquely equipped to help our customers quickly develop and implement compliance solutions and procedures," Grant said.
Because of the intricacies related to the new DOT regulations and the technology needed to achieve compliance, Invensys Operations Management will sponsor a series of online seminars beginning on May 4, 2011, at 2:00 p.m. Eastern time. Additional seminars will be held on May 11 and May 18, also at 2:00 p.m. Eastern Time. Registration for the free seminars is at http://www.real-time-answers.com/49cfr. Invensys will also be conducting live demonstrations of its 49 CFR integrated solution at Booth 423 during the Entelec 2011 Conference & Expo, being held May 24 through May 26, 2011, at the George R. Brown Convention Center in Houston, Texas. For further information about the integrated solution, please contact your local Invensys Operations Management sales representative or visit http://iom.invensys.com/49cfr.
About Invensys Operations Management
Invensys Operations Management, a division of Invensys plc, is a leading provider of automation and information technology, systems, software solutions, services and consulting to the global manufacturing and infrastructure industries. Headquartered in Plano, Texas, its solutions are used by more than 40,000 clients around the world in more than 200,000 plants and facilities.
Invensys Operations Management's offerings are delivered under several prominent industry brands, including Avantis, Eurotherm, Foxboro, IMServ, InFusion, SimSci-Esscor, Skelta, Triconex and Wonderware. The company's approximately 9,000 employees and its global partner ecosystem integrate these products and services to help clients collaborate across systems and enterprises in real time, extracting critical data to make faster and better decisions and synchronize their operations from the plant floor to the executive offices, aligning production goals with business objectives. To learn more about Invensys Operations Management, visit iom.invensys.com.
Invensys plc (http://www.invensys.com) is headquartered in London and is listed on the London Stock Exchange, with approximately 20,000 employees working in 50 countries.
Invensys, the Invensys logo, ArchestrA, Avantis, Eurotherm, Foxboro, IMServ, InFusion, SimSci-Esscor, Skelta, Triconex and Wonderware are trademarks of Invensys plc, its subsidiaries or affiliates. All other brands and product names may be trademarks of their respective owners.
###