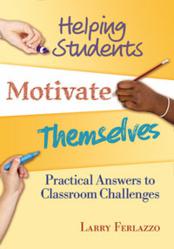 Ferlazzo presents lesson plans and tools aimed at engaging students and helping educators connect with their pupils.
Larchmont, NY (PRWEB) May 05, 2011
Drawing from both his experiences as a high school teacher and as a community organizer, award-winning educator Larry Ferlazzo has written Helping Students Motivate Themselves: Practical Answers to Classroom Challenges, published by Eye On Education.
The book presents lesson plans and "on-the-spot" intervention tools aimed at engaging students and helping educators connect with their pupils' personal interests. As an English and social studies teacher at Luther Burbank High School in Sacramento, California, Ferlazzo knows how difficult it can be to stimulate young student minds. "It's not unusual for teachers to feel like they're pushing a rope. The instructional strategies in my book can help students want to use their rope to pull themselves up on their own," says Ferlazzo.
Helping Students Motivate Themselves is geared towards middle and high school teachers who are looking to facilitate learning by helping students become excited about and inspired by their own education. The author puts forth solutions to the challenges associated with motivating students, helping students see the importance of personal responsibility, dealing with a student who is being disruptive in class, and regaining control of an out-of-control classroom, as well as other difficulties. Ferlazzo designed these practical, research-based ideas by combining literacy development with short and rigorous classroom lessons on topics such as self-control, personal responsibility, brain growth, and perseverance.
But does his method of teaching garner results? Eye On Education President Robert Sickles believes that Ferlazzo's student-based, personal interest approach to learning is an effective one. "Larry Ferlazzo recognizes the importance of building relationships, taking initiative, and accepting personal responsibility," says Sickles. "25,000 daily blog subscribers trust Larry to provide valuable recommendations about classroom culture and instruction."
Ferlazzo has authored and co-authored two books prior to Helping Students Motivate Themselves. Ferlazzo also writes a popular education blog, and his articles on education issues often appear in The Washington Post, Teacher Magazine, and The Huffington Post. His work has also been published in The New York Times, Educational Leadership, Social Policy, and Language Magazine. Ferlazzo was the grand-prize winner of the International Reading Association Award for Technology and Reading and was awarded the Leadership for a Changing World award from the Ford Foundation, as well as the Education Partnerships Award by the College of Education at California State University, Sacramento.
About Eye On Education
Founded in 1992, Eye On Education is an independent and innovative provider of books and other resources for teachers, principals, and administrators. Its mission is to provide busy educators with practical information on professional development, educational leadership, school improvement, student assessment, data analysis, teaching skills, and other related topics.
###