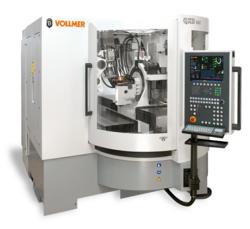 The QXD200 sets a new standard for fast, flexible and efficient manufacturing for PCD tools.
Carnegie, PA (PRWEB) May 06, 2011
Vollmer of America Corporation has announced the development of the QXD200 machine for finishing PCD (polycrystalline diamond) tools. Over twenty-five years of research and experience in PCD erosion have contributed to creating the most efficient generator in the Vollmer machine line up. With erosion times improved up to 30% and with significantly improved finishes, the QXD200 sets a new standard for fast, flexible and efficient manufacturing for PCD tools.
By combining rotary erosion capability with grinding wheels for fluting on helical tools, the QXD200 enables a complete drill bit or end mill to be processed in one machine setup. With the simplification of processing complicated drill designs, companies looking to provide complex PCD tooling for aerospace and automotive industries can achieve new levels of efficient, profitable production. Standard tool geometries up to 250mm in diameter continue to be produced on the QXD platform for use in other industries as well.
Six programmable axes allow for continued innovation in tool design, while the six-position tool changer allows for flexibility in electrodes and polishing wheel selections delivering continuous, unattended operation. Vollmer continues to incorporate simplified programming for ease of training using conversational programming on the machine. The offline simulation creates a 3-D model that can be incorporated into other software packages for verification of end results on tool geometry. Three options for tool delivery are available with capacities up to 64 tools for optimized lights out operations.
For complete details contact Vollmer of America; 105 Broadway Ave. Carnegie, PA 15106; Tel.: 412.278.0655; Fax: 412.278.0520 or e-mail info@vollmer-us.com.
About Vollmer Of America
The VOLLMER Group has evolved as the specialist in re-sharpening and production of PCD tooling, alloy-tipped saws, HSS saws and band saws. VOLLMER Technology & service offers the latest in grinding, erosion and conditioning machines for tooling and saw blades used in woodworking, metal-cutting and the processing of composite materials.
###